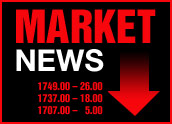 Bad news — an earnings warning from a Dow company and a tepid economic indicator — drowned out any reason for optimism, such as Oracle's earnings, as investors sent stocks to sizeable losses Wednesday.
Coca-Cola warned that its sales would be down and profits off as well and hinted that general economic weakness was at least partly to blame.
Meanwhile, the Federal Reserve said industrial output rose just 0.1 percent in August, far below expectations and well below the 0.6 percent rise clocked in July.
Those tidbits drove all major stock averages into negative territory.
Major Stock Averages
Word that OPEC members had agreed to raise output by 1 million barrels a day starting November 1 and a subsequent drop in crude futures — prices fell 81 cents to US$43.58 in New York trading — didn't help the overall market.
Even positive earnings news from Oracle, a rare occurrence of late in the software sector, failed to provide much support for tech stocks.
Oracle shares were up as much as 7 percent on the day, but had little coattail effect on the shares of other companies.
At the close, the Dow was down 86.80 points to close at 10,231.36. The Nasdaq had shed 18.88 points, or just about 1 percent, enough to drop it below the 1,900 level to 1,896.52. The S&P 500 was off 7.97 points to 1,120.36.
Prices, Fixed
Late in the day, the Department of Justice announced that chipmaker Infineon Technologies had agreed to plead guilty to price fixing and would pay a $160 million fine to the U.S. government.
Infineon admitted that it and other as-yet-unnamed companies conspired to fix the prices of memory chips between 1999 and 2002, with the majority of the chips sold to computer makers such as Dell, IBM, HP and Gateway.
The agreement also calls for Infineon to cooperate with any additional investigation.