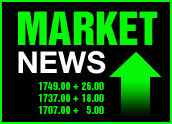 Stocks traded higher today as oil failed to break through a key psychological barrier, at least for now.
Oil futures have marched steadily higher and appeared poised to move above US$52 per barrel, sparking concern that fuel costs would stoke inflation. However, futures traded slightly lower instead, losing 7 cents on the day, to $51.68 a barrel.
That cleared the way for a modest stock rally. The Dow rose 63.77, or 0.59 percent, to 10,830.00. The Nasdaq gained 19.53 points, or 0.95 percent, to finish at 2,071.25, and the S&P 500 rose 6.81 points, or 0.57 percent, to 1,210.41.
Markets Volatile
Though the Dow is trading not far from its high for the year thus far, the markets have seen increased volatility in recent sessions amid rising oil prices, anxiety about inflationary pressures and pending financial news. Federal Reserve Chairman Alan Greenspan addresses Congress tomorrow; February employment numbers are due Friday.
Markets rose despite a fair share of downbeat economic and corporate news.
Both Ford and General Motors, the two largest U.S. car makers, said sales fell last month, with purchases of more profitable SUVs and trucks seeing some of the sharpest declines.
Meanwhile, as the back-and-forth continues among the two suitors for MCI Communications, Qwest acknowledged that it would cut as many as 15,000 jobs if it won the right to buy the long-distance company. Verizon, whose lower bid has been accepted by MCI's board, has said it would cut about half that number of workers.
Manufacturing Slowing
Also, the Institute for Supply Management said its manufacturing index for February stood at 55.3, lower than forecast and down from 56.4 the previous month.
The dollar was higher against both the yen and euro as currency investors bet that Greenspan would include support for a strong dollar policy in his comments to Congress.