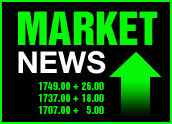 A batch of positive earnings reports and good economic indicators finally had the expected result on Wall Street today as stocks turned in a strong performance.
The Dow fell just shy of a triple-digit gain, climbing 92.95 points, or 0.90 percent, to 10,461.56. The Nasdaq had a more measured gain, rising 11.25 points, or 0.56 percent, to 2,019.95 while the S&P 500 closed at 1,168.41, gaining 4.66 points, or 0.40 percent.
Earnings Reports
Several key Blue Chip companies turned in good earnings reports, including chemical giant DuPont and Wall Street brokerage Merrill Lynch.
EMC Corp. and Fairchild Semiconductor both beat forecasts as well. Drug maker Merck saw its shares rise, despite continued losses and legal expenses mounting from its Vioxx arthritis drug, which was pulled from the shelves last year.
Meanwhile, the Conference Board reported that its index of consumer confidence moved higher in January, rising to 103.4, surprising forecasters who had called for a modest decline, as Americans became more confident about job prospects and other factors. However, the index did hint that investors are more concerned about the longer-range prospects for the economy.
The National Association of Realtors said that while sales of previously owned homes fell 3.3 percent in December, 2004 was still a strong year, with sales up 9.4 percent overall to an all-time high of 6.68 million units.
Iraq Election
Elsewhere, the approaching election in Iraq has oil investors betting on supply disruptions and higher prices. Oil prices have quietly moved toward the US$50 per barrel level in recent weeks.
Today, crude futures were up another 83 cents to $49.64 on the New York Mercantile Exchange.
Overseas, the big news was out of China, where fourth quarter economic growth was pegged at an annual rate of 9.5 percent. Government officials there indicated they would continue measures designed to keep the country's economy from overheating and sparking inflation and other problems.