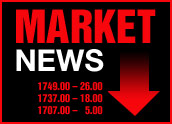 A rare earnings miss and a soft outlook from eBay helped spark another sell-off on Wall Street today as investors ran for cover from a growing list of disappointments in the corporate profits realm.
Major averages ended the session at or near their lowest point so far in 2005. The Dow fell 68.50 points, or 0.65 percent, to 10,471.47. The Nasdaq posted its second-straight 20 percent-plus loss, dropping 27.71, or 1.34 percent, to finish at 2,045.88. The S&P 500 was off 9.22 points, or 0.78 percent, to 1,175.41.
Positive Economic Data
It was the second straight day that investors seemed to look past positive economic data to focus on earnings misses and weaker forecasts. The Conference Board today said its closely watched Index of Leading Economic Indicators rose 0.2 percent last month, indicating further expansion in the economy is likely over the next three to six months.
Other good news came from the energy front, with oil futures falling to a one-week low, dropping 64 cents in New York trading to US$46.91 per barrel. The dollar was also up against the yen and euro in currency trading.
EBay Effect
The eBay news was seen dragging stocks, as the company has consistently met or exceeded both its own and Wall Street's forecasts for both growth and profit.
Market watchers said the auction giant's situation has become symbolic to some investors about the ability of corporations to continue to grow profits with higher interest rates, more difficult year-over-year comparison, and other factors in place.
Other earnings reports only compounded the problem, with Delta Air Lines saying its lost $2 billion in the fourth quarter alone and completed the worst year financially for an airline in U.S. history.