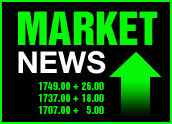 Stocks overcame a brief spike in oil prices to post across-the-board increases today as investors looked to add to gains made before the long holiday weekend.
Lifted by earnings news and by bargain-hunting after nearly two straight weeks of declining share values, stocks managed to post their first back-to-back positive sessions of 2005.
The Dow rose 70.79 points, or 0.67 percent, to 10,628.79. The Nasdaq finished at 2,106.04, up 18.13 points, or 0.87 percent on the session. The S&P 500 also gained ground, rising 11.46 points, or 0.97 percent, to 1,194.16.
Online Advertising
Boosting stocks were strong earnings reports from some key financial services companies, including Ameritrade Holding, which posted record profits for the fourth quarter, and Charles Schwab, which beat forecasts.
Yahoo's stock price also was up. Its earnings report was due out after markets closed. Google shares also were up, racing past the US$200 per share mark on widespread optimism about the future of online advertising.
Elsewhere, shares of Krispy Kreme Doughnuts rose more than 13 percent after the company announced it had accepted the resignation of CEO Scott Livengood. The move was billed as one of several coming steps aimed at helping the company recover from a plunge in its stock price and to address questions raised by investigations into the company's bookkeeping practices.
Oil Unchanged
Oil prices spiked early in the trading day, rising more than $1 per barrel, but ended the session exactly where they began, at $48.38 a barrel. Prices seesawed on sharply colder weather in the northern United States and the upcoming meeting of the OPEC nations to discuss output.
The long range outlook for oil was also in focus as the International Energy Agency raised its global oil demand estimate for 2005 to 1.44 million barrels per day, up 60,000 barrels from earlier forecasts, with economic growth in the U.S. and the former Soviet Union cited for the increase.
On the currency front, the dollar rose sharply against both the yen and euro after the Treasury Department reported that the rate at which foreign investors bought U.S. assets rose to a five-month high in November.