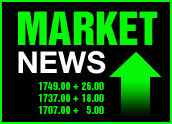 With oil prices dropping, stocks rocketed to their second consecutive day of sizeable gains today, with the Dow again posting triple-digit gains and the Nasdaq turning in the day's best overall performance.
The Dow, which gained more than 130 points yesterday, followed it up with a gain of 113.55 points, or 1.15 percent, enough to push it over the 10,000 mark again to 10,002.03.
The Nadaq was the session's biggest percentage gainer, tacking on 41.20, or 2.14 percent, to close at 1,969.99. The S&P 500 rose 14.31, or 1.29 percent, to 1,125.40.
Economic Reports Mostly Upbeat
The gains came against the backdrop of a sharp drop in oil prices. Crude futures traded down nearly $3 per barrel, or more than 5 percent, closing at $52.35 a barrel. The plunge came after the U.S. Energy Department posted a surprisingly strong inventories report, showing that supplies of crude oil rose, even though end-product supplies, such as heating oil, fell sharply.
Two reports from the Commerce Department shined a favorable light on the economy. Durable goods orders rose 0.2 percent in September, the agency said, reversing a sharp drop in August, and new home sales rose 3.5 percent to an annual rate of 1.21 million units in October, the third highest level on record. Forecasters had been calling for a decline in both numbers.
The Commerce Department said the durable goods figure was driven by more demand for computers, electronics and communications equipment.
Beige Book
Separately, the Federal Reserve's Beige Book on economic conditions argued that the economy remains in expansion mode, but acknowledges that persistently higher oil and gas prices are already beginning to curb spending at all levels of the economy.
The Fed said reports from its 12 regional districts show "economic activity continued to expand in September and early October," but that data also suggest "higher energy costs were constraining consumer and business spending."