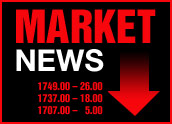 An ease in oil prices gave U.S. stock markets some midday momentum, but earnings worries weighed late in the session, and stocks closed lower as a result.
Shares seesawed most of the day, with earnings news driving prices down in early trading and then a plunge in oil prices helping to drive them higher. By the end of the session, all major stock averages were slightly in the red.
The Dow finished down 7.82 points, a loss of 0.08 percent, to 9,749.99. The Nasdaq shed 1.10 points, or 0.06 percent, to finish at 1,914.04 and the S&P 500 fell less than a point to 1,094.80.
Impact of Earnings
Earnings reports were all over the map, but with enough disappointments to give investors pause. Turning in results that failed to meet expectations were regional telephone carrier BellSouth and consumer products maker Kimberly-Clark.
Food maker Kellogg did manage to post an upside surprise and saw its shares rise 2 percent for the session.
Microprocessor stocks were among the strongest sectors, with many shares rising after an industry upgrade from Smith Barney.
Oil Calms
After jumping to record levels again on Friday, crude oil futures eased in trading today after officials in Norway moved to avert a strike by oil workers in that country, which ranks among the top oil exporters worldwide.
In New York trading, futures closed down 63 cents to US$53.54 a barrel.
In news from the economic front, the National Association of Realtors said sales of existing homes jumped 3.1 percent in September to an annual rate of 6.75 million –the third highest rate on record.
The association noted that the increase came despite a series of devastating hurricanes in the Southeast and as mortgage rates remained near historically low levels.