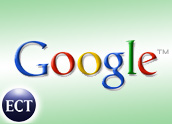 Search engine and tech darling Google did exactly what everyone expected in its first earnings report since going public in August: It blew away estimates and posted triple-digit profit growth as its core search-advertising business continues to expand rapidly — sending its stock price soaring.
Google said it brought in US$805.9 million in the third quarter, a 105 percent year-over-year increase and a 15 percent increase over the previous quarter. It also continued to show it could grow rapidly and remain profitable, posting earnings of $52 million, or 19 cents per share, even with some $200 million it paid out when Yahoo cashed out shares before the offering.
In a conference call, CEO Eric Schmidt said Google was "very pleased" with the results. While the company kept its earlier pledge to steer clear of a reliance on quarter-to-quarter predictions, Schmidt suggested there remains enormous potential for growth.
Expanding Market
"We do know the amount of demand that exists for the kind of advertising we do is really quite large and in many ways unmet," he said. He added that the company is "very optimistic about our future."
"We believe this market is large and expanding," co-founder and products president Larry Page added.
In some ways, Google's results are inherently difficult to measure since the company has no exactly comparable quarters when it was already public to measure against, and some analysts said that the momentum Google had heading into its IPO in August should have propelled it to strong results.
Still, investors were scrambling to grab the stock again after the report. Google shares rocketed higher by 13 percent, or more than $20, in trading this morning to $169.77. That left the stock just pennies shy of doubling the IPO price from just over two months earlier, a buying frenzy that called to the mind the heyday of Web stocks.
Where to Now?
At least one analyst said the stock could power to the $200 level within the next year if it continues to post strong growth and earnings.
Prudential Equity analyst Mark Rowen, who made that prediction, said Google is poised to benefit from the mainstream adoption of online marketing. "An investment in Google is, in effect, an ownership stake in a company with maximum exposure to the online advertising market's fastest growing format," he wrote in a research note.
Google emerged from the quarter that included its IPO with $1.86 billion in cash, the company said. Though they gave no specific indications about how it might use those funds, executives did hone in on international growth as an opportunity of major importance for Google. Non-U.S. sales accounted for 35 percent of revenues, up from 31 percent last year.
"We see great opportunities all around the globe," co-founder and president of technology Sergey Brin said in the conference call, noting the company's recent deal to provide paid search results to AOL Europe, a contract previously held by rival Overture.
During the conference call, executives swatted away a range of questions about Google's future strategy, declining to offer details of known new initiatives such as Desktop Search, and rumored projects, such as a Google Web browser.
However, Google did say it is not moving to become a traditional Web portal like its main rival, Yahoo. "We're not going to announce a portal strategy because we're not going to do that," Schmidt said.
Forrester Research analyst Charlene Li said Google is likely to continue to try to shield its new initiatives from public scrutiny. "It wants to be able to try and fail, which is inherently difficult for a public company, especially one that's as much in the glare of the spotlight as Google is right now," she said.
Office Space
Google continues to grow in other ways as well. Its quarterly report said the company now employs 2,668 employees worldwide, meaning it added an average of 100 employees every month during the quarter, or more than three each day.
That rapid growth in employee base has also been a concern for some company watchers, who believe that Google's laid-back and almost anti-corporate culture is a major factor in its early successes.
However, there might be reason for investors to believe that the success of Google is as much about the maturation of the Internet as a place to make mounds of money as it is about any single company's particular story, regardless of how compelling.
On the same day that Google released its earnings, related Internet fixtures Amazon.com and eBay also posted strong quarterly results. Revenue at Amazon was up nearly 30 percent while eBay saw sales grow by 50 percent.
Tom Taulli, IPO analyst with CurrentOfferings.com, said Google's impact on the tech sector was made clear when rival Yahoo reported earnings recently and said that its results were boosted by a nearly $200 million windfall from selling its long-ago purchased stake in Google.
Long-Term Impact
Yahoo paid just $10 million for the stake, the cash from which ironically might now be used to compete with Google, Taulli noted.
The bigger impact will be long term. Already, some of the scores of employees, investors and others who were made instant millionaires by the offering are leaving Google to pursue new opportunities, which will help seed the next generation of Silicon Valley startups.
"It was a big offering and for that reason has big ripples," Taulli said. "And at least so far the concerns that some were raising about the company have not proven true."
If anything, Taulli added, some would-be Google investors are likely wishing they had bid higher during the Dutch-style IPO.