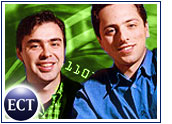 Google might be forced to delay its long-anticipated initial public offering (IPO), which had been rumored to be heading for Wall Street as soon as this week.
Ironically, the company that built its reputation on having the best search technology in the world might have its IPO stalled in part by technical or logistical glitches in the Dutch auction-style approach it is using to allocate and price its shares.
The IPO might also be delayed by an investigation under way by regulators in California and Connecticut into whether Google violated securities laws when it sold unregistered shares to private investors. Google has since said it would offer to buy back those shares to clear up the glitch and set the offering — priced at an estimated US$3 billion — back on track.
Google: Just a 'Speedbump'
Meanwhile, some analysts say a delay could be helpful, because the stock markets have been hammered by bad economic data recently, finishing last week at their lowest levels for the year. That news alone could erode some of Googles projected $36 billion market cap.
Google refused to comment, citing Securities and Exchange Commission (SEC) regulations. In an Associated Press story, an unnamed source described the latest delay as a "speedbump."
The company had not formally set a date for the offering, but it was widely believed that Google would begin taking bids from investors early this week, possibly debuting on Wall Street by the end of this week or early next.
Yahoo Settlement
Also on Monday, Google said it had reached a settlement with rival Yahoo over a patent dispute involving Overture.
As part of the deal, Google will issue 2.7 million additional shares to Yahoo, which already held a modest stake in Google. Yahoo agreed to place about 1.6 million shares of Google stock up for sale during the IPO, far more than the approximately 550,000 it originally planned to sell.
Google said the payout would tip it from a profit to a loss in the current quarter.
Unorthodox Offering
Google has said in SEC filings that once its auction site went live, bids would be accepted for five days, after which time a strike price would be set and the offering would go forward.
Some observers have been predicting that the unorthodox offering would pose a massive technical challenge even for a company as Web-savvy as Google.
"Nothing like this has been done before, certainly nothing on this scale," said analyst Tom Taulli of CurrentOfferings.com. Taulli noted that Google also brought a large number of underwriters on board, which could add to the confusion. In order to bid, investors must have or open accounts with one of the underwriting firms.
Taulli told the E-Commerce Times that expectations have run so high for the Google IPO that it might disappoint investors when it actually happens.
Risky Investment
"It came out with a bang, but there have been a number of missteps along the way," Taulli said. While some — including an SEC investigation into a Google corporate officer — stem from the company itself, others are beyond its control. Nasdaq, for instance, has plunged in recent weeks, with Internet stocks among those hurt worst by the skid.
Interest in Google stock might have cooled somewhat in recent days after Google announced it expected the shares to go for $108 to $135, Taulli said. With a five-share minimum for bids, the price might be too steep for individual investors.
Google has been among those warning that the IPO shares will be a risky investment. In another filing within the past two weeks, it noted that employees and insiders, such as venture capitalists, own more than 260 million shares that they could sell starting six months after the IPO, potentially lowering the value of outstanding shares.
All Hype?
Barry Nalebuff, Milton Steinbach Professor at Yale School of Management, said that because the IPO is nontraditional, the underwriters aren't lining up would-be investors the way they typically do, a process that gives them a solid basis for predicting demand and pricing offerings in a way that ensures a solid debut.
"Given the lack of institutional bankers lining up demand in advance, it is just impossible to tell what demand will be like," Nalebuff told the E-Commerce Times. "I think the delay will be bad. There is the chance that this whole thing will boil over and people will start to feel it is all hype."
While the delays could give the market time to recover and enable Google to address any loose ends, another cloud appeared Monday in Google's longer-range forecast when Jupiter Research issued a report saying that growth in paid advertising search revenues will slow in the next six years.
Paid listings will still grow, and will still be the fastest-growing interactive advertising segment, but its recent spurt will slow. Jupiter said paid search will grow from a $2.6 billion market this year to $5.5 billion in 2009.