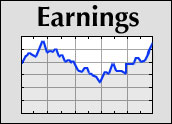 Microsoft late this afternoon reported quarterly revenue and earnings that topped the company's expectations.
Crediting stronger-than-expected PC demand from consumers and businesses, the Redmond, Washington company said it earned US$2.9 billion, or 27 cents per share, on revenue of $9.19 billion for the three months ended September 30. Those figures, up 11 percent from the first quarter of 2003, compare with earnings of $2.6 billion, or 24 cents per share, on revenue of $8.22 billion a year ago.
Beat Revenue Estimates
Analysts polled by Thomson First Call had been expecting earnings of approximately 30 cents per share, on revenue of $9 billion. In July, Microsoft itself had forecast revenue of $8.9 billion to $9 billion, with earnings per share of 25 cents, including about 5 cents per share in stock-based compensation expenses.
In a statement, Microsoft CFO John Connors said he expects continued growth in commercial and consumer businesses this fiscal year. "This quarter, we had a very healthy commercial server and desktop business driving double-digit revenue growth, and we expect to continue the trend of growing revenue faster than expenses as we work to make each of our businesses more efficient and profitable," he said.
Connors said Microsoft's quarterly performance was helped by strong personal computer shipments, which grew 10 percent in the quarter rather than the company's projected 6 to 8 percent. He also said server shipments also were slightly higher than expected.
Current Quarter Could Be Lower
Despite the good news, the company's revenue forecast for the current quarter fell below Wall Street estimates.
For the current fiscal second quarter, which ends in December, Microsoft forecast revenue between $10.3 billion and $10.5 billion, slightly below the First Call consensus estimate of $10.7 billion. Microsoft said it expects earnings per share of 28 cents, including stock-based compensation expenses.
Microsoft raised its expectations for the full fiscal year ending in June. The company anticipates revenue between $38.9 billion and $39.2 billion, with per-share earnings of $1.07 and $1.09, including compensation charges. In July, Microsoft had predicted revenue of between $38.4 billion and $38.8 billion and earnings per share of between $1.05 and $1.08.
Shares in Microsoft were down 14 cents at $28.56 at today's market close before the company released earnings data. Shares fell another 56 cents in after-hours trading.