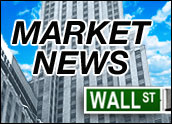 Technology shares rose again today but the Dow was dragged down by lackluster earnings news.
The Dow lost 21.17 points, or 0.21 percent, to close at 9,865.76. The Nasdaq was higher by more than a full percentage point, however, gaining 20.65 points to 1,953.62. The S&P rode the Nasdaq's coattails to a modest gain, adding 2.83 points, or 0.26 percent, to finish the session at 1,106.49.
The strength in tech came with some of the biggest names in the sector, including Microsoft and Google, lined up to report earnings after the closing bell. EBay's report after trading closed yesterday of an eye-popping 77 percent increase in third-quarter profits boosted its share price. The company said sales were up 50 percent, with a rush of new customers and overseas growth setting the pace. EBay shares leaped 8 percent on the session and are again trading just below the US$100 level.
Analysts Expectations
In contrast, the weakness in Blue Chips came amid concern about the results posted by some of the largest corporations. Heavy equipment maker Caterpillar, for instance, was down 3.8 percent despite posting third quarter revenue growth of more than 35 percent. Analysts chose to focus on the company's profit margins, which had shrunk even more than predicted because of steel and fuel cost pressures.
Like Wall Street, economic reports offered a mixture of results for investors to consider.
A report from the Philadelphia Federal Reserve on manufacturing activity showed a slight rebound in activity last month, but also indicated less hiring activity and fewer new orders than the month before.
Jobless Claims
New claims for jobless benefits fell sharply last week, hitting a six-week low, the Labor Department said. However, that followed claims being driven higher in previous weeks by hurricane-related shutdowns in the Southeast.
The Conference Board, meanwhile, reported that its index of leading economic indicators fell by 0.1 percent in September, less than predicted, but the fourth straight month of lower ratings.