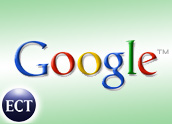 Shares of Google, the world's most-used Internet search engine, might continue to rise as the company boosts advertising revenue, research analysts at securities firms that underwrote Google's public offering said after they were cleared to publish reports on the company.
Google, whose shares are up 49 percent from the August 18 IPO, might increase sales by 93 percent next year, Morgan Stanley analyst Mary Meeker wrote. The stock rose 7.3 percent, or US$8.60, yesterday to $126.86, the highest level since it began trading.
Google shares are now within the range of $108 to $135 the company suggested investors bid in the auction-style offering earlier this year before cutting the price to $85 amid weak demand from investors.
The company's stock market value is now about $34.4 billion, more than the $16 billion valuation of online retailer Amazon.com or $28.4 billion for Alcoa, the world's largest aluminum producer.
Advertising Market
"It's done well for a reason," said Bill McVail, who helps manage $13 billion, including some Google shares, at Turner Investment Partners in Berwyn, Pennsylvania. "I think at this point, it still trades at a little bit of a discount to Yahoo."
Yahoo owns the second most-used search engine. Yahoo shares closed yesterday at $31.82, or 95 times the company's likely earnings per share this year, Morgan Stanley's Meeker wrote in her report today. Google traded yesterday at 62 times 2004 earnings, she stated.
Google, based in Mountain View, California, will sell more ads as the Internet advertising market grows by 19.8 percent a year to $17.9 billion in 2008, Credit Suisse First Boston analyst Heath Terry wrote.
Morgan Stanley's Meeker and Credit Suisse First Boston's Terry issued their reports today after their firms led Google's $1.91 billion IPO last month.
JPMorgan analyst Imran Khan, Thomas Weisel Partners' Christa Sober and W.R. Hambrecht + Co.'s William Lennan, whose firms helped underwrite the offering, also issued their initial assessments of the company. The analysts didn't return phone calls seeking comment.
Various Ratings
Credit Suisse and Thomas Weisel rated the company "outperform," Morgan Stanley and JPMorgan as "overweight" and WR Hambrecht & Co. as "buy." The banks were prohibited from publishing research until 40 days after the sale was completed.
"We believe that Google is well positioned to take advantage of the dramatic growth in the Internet in general and online advertising specifically," Terry said in a note to clients today.
Credit Suisse set a 12-month price target of $145 for the stock. Hambrecht said the shares may rise to $140 in a year.
Google's advertising revenue will increase 83 percent this year, to $1.7 billion, and 44 percent next year, to $2.5 billion, Khan said. The company might boost sales abroad because it now generates just 31 percent of sales from outside the U.S., he stated.
"With 34 percent share of the paid search market, Google is the dominant player in this rapidly growing space, and we believe the company will maintain its market leadership," Khan said.
Credit Suisse said there's "no shortage of risks to owning Google" given its short operating history, increasing competition in a "rapidly changing industry" and that it doesn't provide earnings guidance.
Advertising Revenue
Rivals such as Yahoo and Microsoft could win over Google users and the company may be too dependent on paid search advertising revenue, JP Morgan said. Google gets 97 percent of its revenue from paid search ads, the bank said.
Morgan Stanley's Meeker, the technology analyst dubbed "Queen of the Net" by Barron's in 1998, helped Morgan Stanley win part of the underwriting business for Google, Newsweek reported in August.
Meeker has a close relationship with Google founders Sergey Brin and Larry Page, the magazine reported. She didn't directly pitch Google to her firm, Newsweek said.
Morgan Stanley spokeswoman Diana Quintero declined to comment today.
Morgan Stanley, Credit Suisse and other securities firms paid $1.4 billion last year to settle securities regulators' claims that they published misleading research reports in the past to win investment-banking business.
Internal documents released in the investigation said that Meeker's main focus at Morgan Stanley was to win investment-banking business. Quintero said then that Meeker, after the investigations, "emerged with her reputation for integrity intact." Quintero declined to comment further today.
Morgan Stanley changed the ways analysts were paid and supervised, as part of the settlement, to try to end incentives for analysts to help win banking clients.