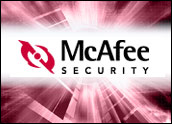 The chief executive of Network Associates quashed speculation Tuesday that his company is in talks to be acquired by Microsoft, cutting into earlier gains made by the stock, which still managed to close up nearly 4 percent.
Shares in the Santa Clara, California-based company ended off their best levels following comments by Chief Executive George Samenuk, but still closed higher by 59 cents, or 3.6 percent, at $17.16.
Earlier, the shares had gained almost 8 percent to touch an intraday high of $17.88. Speaking at an investment conference broadcast via the Internet, Samenuk denied that his firm is in acquisition talks with Microsoft. The executive would rather continue to have Microsoft as a "very good partner," he said.
No Comment From Microsoft
Microsoft has been looking to make a more significant push into the security software segment. Meanwhile, a company spokeswoman declined to comment on the matter, citing a policy of not commenting on speculation about Microsoft's mergers and acquisitions activities.
The current partnership between the companies includes bundling Network Associates' antivirus software with Microsoft's MSN service. The two also share research on computer viruses.
Industry publication CRN reported online earlier that a sale announcement could come as early as July 1, citing unnamed Wall Street and channel partner sources. The report also said Network Associates, which makes McAfee antivirus software, plans to announce a round of layoffs.
Microsoft shares edged down 0.2 percent to close at $28.29 Analysts at S.G. Cowen said a sale to Microsoft "makes the most sense," given Microsoft's aim to make inroads in the antivirus software market.
However, Brian Bolan at Marquis Investment Research seriously doubts that any deal between the two companies is in the works. "This would be quite a break in tradition for Microsoft, which has historically chosen the latter half of the buy or build proposition," Bolan said.
Symantec Takes Hit From Speculation
Shares of Symantec fell amid the speculation about a possible deal between competitor Network Associates and Microsoft that would sharpen competition. Cupertino, California-based Symantec, which makes the Norton line of antivirus software, saw its shares fall 1.4 percent to close at $40.16.
The chatter added to the "uncertain strategic sentiment" surrounding Symantec and combined with concerns that sales for the fiscal first quarter to June won't top expectations, Prudential Equity analyst Michael Turits said. The June quarter is typically seasonally weak for Symantec in terms of both consumer and corporate growth, he noted.
However, Turits still likes Symantec shares and believes the company is "the broadest and best positioned vendor" in both consumer and corporate security software segments. He reiterated an "overweight" rating on the shares.