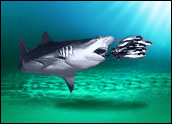 Hollinger International sold the Telegraph newspaper and related assets to Britain's Barclay brothers Friday for $1.3 billion, the Independent said Friday.
The sale of the prestigious London newspaper was assured once a U.S. judge dismissed an attempt by Hollinger's former chairman, Conrad Black, to block or influence the sale to Fred and Dave Barclay.
Black, ousted last year as chairman, built Hollinger International into one of the world's largest newspaper publishers, retaining a 68 percent voting stake through his Canadian company Hollinger Inc. of Toronto.
Hollinger International argued in the Delaware court that it did not need the approval of shareholders to sell the Telegraph.
Hollinger International's other newspapers include the Chicago Sun-Times and the Jerusalem Post.