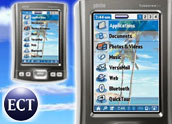 Despite strong shipments from top-five vendors Hewlett-Packard and Dell, the worldwide market for hand-held devices has experienced its third successive quarter of year-over-year decline.
Device shipments totaled 2.1 million units in the third quarter, an 8.7 percent year-over-year decrease, according to IDC's Worldwide Hand-held QView report.
The report blames a drop in shipments from market leader palmOne and market consolidation highlighted by a near complete exit of top vendors Sony and Toshiba from international competition.
"We expected a lot of Sony's users to switch to other hand-held manufacturers," IDC Mobile Devices program analyst David Linsalata told the E-Commerce Times. "But since the market has continued to decline since Sony's departure, the question becomes: Is there a demand there?"
Vendor by Vendor
PalmOne experienced a decline in shipments of 12.7 percent year-over-year, bringing the company's share down 6.9 points to 34.7 percent, according to IDC. Analysts expect stronger hand-held growth in the next quarter, given palmOne's typically strong sales during the holiday season.
Thanks to a refreshed lineup across both its business and consumer portfolio, analysts said HP's shipments increased 11.7 percent year-over-year. This boost brought HP to within 5 percentage points of palmOne, an increase of 6.7 percent from the second quarter.
Continued sales of the x30 helped Dell to increase 44 percent year-over-year, bringing Dell's market share up 2.3 percent to 8.9 percent of the worldwide hand-held device market. With the recent release of the x50 and the company's strong direct-sales model, analysts said Dell looks well positioned for the fourth quarter of 2004.
Similar to Medion before it, analysts said MiTAC has entered the top five after a relatively short time in the hand-held device market, thanks to a focus on quality low-cost hand-held devices. IDC reports MiTAC increased its shipments 1007.9 percent year-over-year, giving the company a 3.2 percent market share.
As was to be expected from the company's decision earlier in the year to withdraw from all markets except for Japan, Sony's shipments declined 81.5 percent year-over-year. This decrease brought Sony's market share down 5.8 percent to 2.1 percent.
More Competition Coming?
More competition could be on the horizon. Low barriers to entry are enabling companies with established core competencies in electronics design and manufacturing to enter the market and quickly gain share, according to IDC.
"If we see new players enter the market given the current state, it will be mostly small players coming in, with the majority of the market share staying with the large players," said Linsalata, adding that even if new players did generate significant market share, it would be at the expense of significant margins.
Linsalata also said hand-held sales were getting hurt by the emerging popularity of smart phones and other convergence devices that give users much of the same functionality and eliminate the need to carry two devices.
Need for Innovation
Analysts said success in the hand-held market is increasingly equated with the ability to develop technology that extends the hand-held device into markets beyond core personal information management (PIM) functionality.
"In the face of intense competition from converged mobile devices capable of performing basic personal information management tasks, the worldwide hand-held device market continues to struggle to evolve beyond its primary role as a PIM device," Linsalata said.
"It is crucial that vendors push hand-held devices into new market segments through the integration of existing technology, such as GPS bundles, in order to energize this market and return it to a growth path," he said.