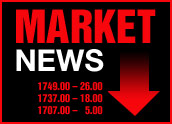 U.S. stocks continue to be stuck in the January doldrums, with renewed selling today pushing the Dow and the Nasdaq to their lowest levels since before the year-end rally began in November.
In the fourth straight day of losses, the Dow fell by 24.38 points, or 0.23 percent, to finish at 10,368.61. The Nasdaq closed at 2,008.70, losing 25.57 points, or 1.26 percent on the session. The S&P 500 was off 4.12 points, or 0.35 percent to 1,163.75.
Biggest Loser
A slowdown in corporate earnings growth is the most often cited cause for the persistent sell-off, with investors quick to react to negative reports and outlooks, such as the one from chipmaker Infineon today, which called for growth of just 2 to 3 percent in demand for mobile handset chips.
Infineon lost 4 percent on the day, making it the biggest percentage loser on the Dow today. Intel was caught in the downdraft and lost 1.9 percent.
As in many recent sessions, positive earnings reports failed to carry the day. Printer maker Lexmark International beat forecasts and said sales were up 13 percent in its fourth quarter.
Crude Factor
Oil prices, which dogged stocks for much of 2004 but helped spark the stock rally when they fell sharply, are again threatening to become a factor working against stocks.
Crude futures closed up another 28 cents today to US$48.81 per barrel, near their highest levels in two months.
Overseas, the dollar largely held its own against foreign currencies, losing just 0.2 percent against the euro and finishing unchanged against the yen.