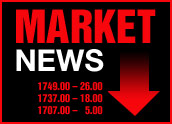 U.S. stock markets were unable to sustain some early momentum today and ended up finishing lower on the session, finishing another dismal week in which earnings news took center stage.
Though several bellwether companies posted strong earnings reports, weaker outlooks and some profit misses sparked selling for most of the week.
Worst Year Start Since 1982
The Dow finished lower by 78.48 points, or 0.75 percent, to end the week at 10,392.99, a loss of 1.7 percent on the week. The Nasdaq closed out the week at 2,034.27, down 11.61 points, or 0.57 percent for the session and off a sharp 2.6 percent for the week. The S&P 500 fell 7.54 points, or 0.64 percent on the session to 1,167.87, down just slightly on the week.
For the Dow, it was the third straight week of losses to open 2005, the first time that a year has begun with that long a streak of declines since 1982.
The sell-off continued despite some strong earnings reports, notably from General Electric, which outpaced forecasts for the fourth quarter and said it was "confident" it would meet its 2005 targets for growth. United Technologies also beat the street and issued a strong forecast.
Focusing on the Negative
The week saw investors largely overlooking a raft of positive economic news — from lower weekly employment to signs of future economic growth from the Index of Leading Indicators — and focusing instead on the uneven nature of earnings for the fourth quarter.
Oil prices were also a factor as the week wound down, with crude futures surging higher in late trading, up $1.22 per barrel to US$48.52 in New York Mercantile Exchange trading.
The latest spike in oil prices came as OPEC raised its demand forecast for 2005, the second time in a week a major forecast for oil demand was increased.