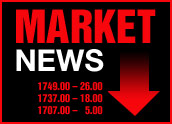 An employment report for December that showed steady job creation and capped the best year for hiring since 1999 wasn't enough to prevent stocks from ending the week in negative territory, with yet another weak session today.
The Dow finished the day and week at 10,603.96, down 18.92 points, or 0.18 percent for the day, and for the week it was down 1.6 percent. The Nasdaq came to rest at 2,088.61, down 1.39 points, or 0.07 percent. The Nasdaq turned in five straight losing performances this week, finishing the week with a loss of just under 4 percent. The S&P 500 was off 1.70 points today, or 0.14 percent, finishing at 1,186.19, down 2.1 percent for the week.
Interest Rates
Stocks briefly moved higher in early trading after the Labor Department reported the economy added 157,000 jobs in December, slightly below some forecasts. For the year, the agency said, U.S. employers added 2.2 million jobs, the most since 1999 when 3.2 million jobs were created.
However, other factors weighed on stocks, including the possibility that a stronger job market could prompt the Federal Reserve to hike interest rates more quickly in order to head off inflationary pressures.
Investors, meanwhile, have already begun to look ahead to the first batch of fourth-quarter earnings reports. Shares of Intel were up 1.5 percent today ahead of the leading chipmaker's earnings announcement due on Tuesday. Metals giant Alcoa, which reports on Monday, also saw its stock up more than a full percentage point.
Oil Prices
In other news, the dollar gained ground against the euro and yen after U.S. Treasury Secretary John Snow said the Bush administration remains committed to seeing the dollar remain strong in the long run.
Oil traded higher by just 13 cents in New York, despite some volatility during the session, finishing the week at US$45.43 per barrel, a gain of $2 for the week.