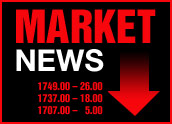 The Dow Jones Industrial Average posted a triple-digit loss today as investors dumped shares on worries that the corporate earnings season would shape up as a disappointment.
Despite a strong quarterly performance from Apple and others, profit warnings and full earnings reports have shown weakness in some key sectors, including parts of the tech economy.
Down Down Triple Digits
The markets were down most of the day and the plunge accelerated as the closing bell approached. The Dow finished down 111.95 points, or 1.1 percent, at 10,505.83. The Nasdaq lost 21.97, also 1.1 percent, to finish at 2,070.56, and the S&P 500 closed at 1,177.45, down 10.25 points, or 0.86 percent.
Among the companies whose soft outlooks led to the sell-off were Verizon, which said that 2005 profits would be muted by rising retirement costs and expenses associated with spinning off some small business units, and Home Depot, which said it expected growth to be flat or slower in 2005.
The news on the economy was also mixed, based on two government reports released today.
Retail sales rose 1.2 percent in December, the Commerce Department said, ahead of expectations as automobile sales were particularly strong.
Oil Prices Soar
However, weekly first-time unemployment claims were higher, rising 10,000 to 367,000 last week, their highest level since September. That number has been consistently rising in recent weeks.
Oil prices were also cited as a factor in the stock sell-off, with crude futures jumping US$1.67 per barrel to $48.04 in New York Mercantile Exchange trading, as prices seem poised to quietly rebound back near the $50 level.