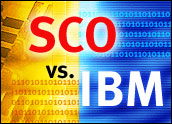 The SCO Group has broadened its lawsuit against IBM by adding a copyright infringement claim to the case.
SCO announced at the beginning of last year that it was suing IBM, claiming that the company had used proprietary Unix code obtained from SCO in creating its version of Linux. Since then, the case has had numerous twists and turns, with IBM countersuing and SCO going after Novell.
Although SCO has amended its original complaint before, the copyright infringement claim is a major new element. A hearing is scheduled for today, February 6th, to determine what information IBM needs to disclose to SCO as both companies head toward a scheduled trial date of April 11, 2005.
Preparing for Battle
SCO previously was prevented from formally including copyright infringement in the case due to unresolved issues with Novell, which sold most of its Unix intellectual property rights to SCO's predecessor.
The addition of the copyright claim is an indication that SCO is ready to take every avenue in its lawsuit against IBM, Yankee Group analyst Dana Gardner told the E-Commerce Times.
"SCO continues to be persistent in standing up for what they think is an injustice," he said.
He added that even though there have been legal setbacks for SCO in the case, the company seems to be preparing for a long, drawn-out and increasingly complicated lawsuit.
I Know You Are, But What Am I?
The accusations and wrangling in the SCO case have started to look like the legal equivalent of a playground squabble.
During the course of SCO's suit and IBM's countersuit, each company has filed several motions to try to force the other side into releasing information.
In one motion in December, IBM criticized SCO for delivering copious source code that had been printed on sheets of paper, rather than in electronic form. SCO, in turn, said it could deliver the code in any way it saw fit.
Similar criticisms and scuffles are not limited to just the two companies. In December, Darl McBride, SCO's chief executive, put an open letter on the company's Web site, accusing the Free Software Foundation and Linux vendor Red Hat of undermining the U.S. and European systems of copyrights and patents.
No Way Out
With continued insults being hurled in formal statements and Web site postings, SCO will move forward with its trial preparations as the target of much ire from the Linux community and others, Gardner noted.
"There's a lot of negative sentiment toward the company," he said. "You see it in everything from published remarks to the recent denial-of-service attack. But they're continuing to be resolute. That means we'll continue to see them go forward with this suit."
In some ways, he said, SCO has passed the point of no return. Dropping the lawsuit now or in the near future could be so damaging to the company that it would not be able to continue operations.
"It seems to be essential to the viability of their business," Gardner noted. "To a large degree, whether they continue as a business is contingent on the success of this lawsuit."
After the Ruling
Even if SCO does win the suit, it remains to be seen whether the company will be able to foster good relations with a user community that is squarely on the side of IBM in the suit.
Gartner analyst George Weiss told the E-Commerce Times that a cloud still hangs over the Linux community because of SCO's actions.
"You can't have this back-and-forth accusation and innuendo without affecting users," he said. "It's costing SCO a tremendous price in terms of goodwill."
He added that the company could have a hard time once the suit is concluded. "They have to function in a larger community," he said. "If they come out with any new products, they need a level of goodwill for it to succeed in the market. If they have none, people won't be enthusiastic about doing business with them."