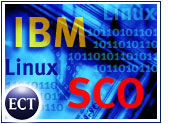 Technology heavyweights IBM and Intel have agreed to provide seed funding for a new legal defense fund aimed at thwarting attempts by The SCO Group to sue Linux end users and creators.
The Open Source Development Labs (OSDL) said the two companies, along with MontaVista Software, provided US$3 million toward what it hopes will become a $10 million nest egg called the Linux Legal Defense Fund.
The fund will be used to help Linux customers and Linux inventor Linus Torvalds defray legal expenses they are likely to incur as a result of what is becoming a sprawling set of claims and counterclaims.
Vocal Point
"This fund sends a clear message that OSDL, in cooperation with others throughout the Linux industry, will stand firm against legal threats levied by The SCO Group," OSDL CEO Stuart Cohen said. "OSDL is responding to a call for leadership on this issue."
The lab said it is finalizing a process through which end users of Linux who have been sued by SCO for copyright infringement can request assistance from the fund. Although SCO has not yet begun such action, it has made it clear that it intends to do so and has begun offering discount license agreements to help users avoid lawsuits.
Torvalds has been subpoenaed by SCO to provide a disposition in its $3 billion lawsuit against IBM. OSDL also will draw on the money itself to answer a subpoena it received.
Broadening the Bandwagon
Gartner analyst George Weiss told the E-Commerce Times that the availability of additional funds may embolden more companies to stand their ground rather than capitulate and purchase licenses from SCO to avoid lengthy, costly and distracting legal battles.
"IBM and Red Hat put SCO back on the defensive with their countersuits last summer," Weiss said. "This represents another opportunity for companies to justify noncompliance with SCO's demands. It's strength in numbers, and this is something that a lot of smaller companies may be able to rally around."
While the inclusion of IBM is not a surprise, given its position opposite SCO, Intel's participation in the fund represents another endorsement of Linux by a deep-pocketed, big-name technology firm. Already, Hewlett-Packard has promised to indemnify its Linux customers against SCO claims.
Attempts to reach SCO for comment were not immediately successful.
Self Defense
SCO has raised $50 million of its own for its cause, and some analysts say it may have staked its future on successfully winning at least some of the various legal actions it has outstanding. The company held a conference call at the end of 2003 to lay out an aggressive legal campaign for this year.
Although Linux vendor Red Hat has already stepped up by filing a countersuit against SCO and offering to help fund its own customers' defenses, the move by OSDL represents much-needed leadership among the disparate Linux users and developers SCO has targeted or will target, IDC analyst Dan Kusnetzky said.
"Red Hat stood up to take some bullets, but the open-source community was really at a loss for how to respond," he told the E-Commerce Times.
That leadership vacuum fostered an environment that resulted in denial-of-service attacks against SCO's corporate Web site as well as vitriolic letters attacking SCO president Darl McBride.
"Some leadership was called for, some kind of focal point the community could rally behind," Kusnetzky added.
Seeking Google
Separately, SCO acknowledged last week that it has held talks with search engine leader Google about purchasing a license to use the technology at the heart of the dispute — the legacy code SCO claims made its way from Unix into Linux.
Google is often credited with setting the bar with its vigorous use of many Linux-based servers to power its various search engine platforms. Success in convincing Google to buy a license could help SCO convince other potential customers to step up as well.