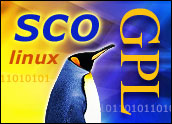 With perhaps another 18 months before its case against IBM for copyright infringement goes on trial, SCO has chosen (perhaps ironically) to take its battle against open source out in the open. On Thursday, company CEO Darl McBride posted the first of what he said would be "a series of letters … in the months ahead … examin[ing] the many issues SCO has raised … over violations of our UNIX intellectual property contract."
McBride wrote that Thursday's letter would explain SCO's views on "the key issue of U.S. copyright law versus the GNU GPL (General Public License)."
In the letter, McBride wrote that "In the past 20 years, the Free Software Foundation (FSF) and others in the Open Source software movement have set out to actively and intentionally undermine the U.S. and European systems and copyrights and patents," adding that "attacks against SCO, its management, and its lawyers … [are] breathtaking" and that "the emotions are obscuring the very clear and important legal issues SCO has raised."
McBride went on to say that, emotions aside, "the issue is clear: do you support copyrights and ownership of intellectual property as envisioned by our elected officials in Congress and the European Union, or do you support 'free' — as in free from ownership — intellectual property envisioned by the Free Software Foundation, Red Hat, and others?"
He concluded: "There really is no middle ground. The future of the global economy hangs in the balance."
Extraordinarily Clueless?
Unsurprisingly, McBride's letter generated a whirlwind of controversy.
On Friday, Stanford law professor and noted constitutional scholar Lawrence Lessig, the author of Code and Other Laws of Cyberspace, shot off a reply to what he called "this extraordinary document by McBride."
Lessig wrote: "From the start of this pathetic lawsuit, Eben Moglen [professor of law at Columbia University and general counsel of the FSF] has argued that there was nothing behind the SCO claims. His arguments are persuasive. But if you want a clue of just how clueless this case is, consider the constitutional arguments made by SCO" in the open letter.
When asked by the E-Commerce Times whether there is any validity to SCO's legal arguments, Lessig wrote in an e-mail reply: "Not that I know of."
Catcher in the Copyright
In SCO's open letter, McBride argued that "SCO argues that the authority of Congress under the U.S. Constitution to 'promote the Progress of Science and the useful arts…' inherently includes a profit motive and that protection for this profit motive includes a Constitutional dimension."
In his Friday rebuttal, Lessig called this argument "the most interesting (and silly) claim made in the whole of McBride's piece."
Continued Lessig: "There is absolutely no authority in any Supreme Court case anywhere to say that a copyright owner must sell his copyrighted material. If J.D. Salinger writes a novel that he doesn't want to be published, copyright law gives him the right to put the novel in a drawer and never sell it at all. Indeed, the law would punish anyone who stole the book and published it without his permission — even if the 'motive' of the thief was 'profit.'"
Lessig told the E-Commerce Times that people easily confuse copyright and property rights because "it is not an area of ordinary life" and said that based on the claims he has seen, SCO's case is "totally frivolous."
I Love Linux, I Love It Not
Likewise, Bill Claybrook, research director for Linux and Unix at Aberdeen Group, told the E-Commerce Times that he does not find any of SCO's arguments compelling and said it will be very difficult to prove the origin of the code in Linux that SCO claims is copied.
"This is one of the interesting parts of this lawsuit," Claybrook said. "SCO loved Linux, then [it] hated Linux. Today, it appears that SCO believes that it owns Linux because it is trying to sell licenses to protect us from [SCO itself]."
"My first reaction, when reading [SCO's] letter, is that it was difficult to get past [the] first paragraph," Yankee Group senior analyst Laura DiDio told the E-Commerce Times. "I understand that The SCO Group is trying to explain its position, and by so doing it hopes to change the opinion — of a large portion of the high-tech industry — that it is 'the bad guy.' Unfortunately, the die was cast in March 2003 when The SCO Group launched its lawsuit against IBM.
"SCO's action has … put it squarely at odds with the open-source and Linuxcommunity, which views them as the villain. That is not likely to change," DiDio added. "SCO chose to exercise its right to litigate. Nothing The SCO Group says at this point, no matter how well intentioned, will convince its critics that it is a white knight. SCO's best chance ofswaying enterprise opinion is to be sensitive to the needs and budgets ofthe enterprise community and to remember that IBM and Red Hat corporatecustomers are innocent bystanders in this ongoing vendor war."
Not Much Real-World Impact
So far, SCO's attempts to bolster its claims by convincing enterprises to pay for licenses for alleged use of its code have had little effect on enterprises' migration to the Linux platform, according to Ted Schadler, principal software analyst at Forrester Research.
"In a survey we did last summer of 50 Fortune 1000 companies, long after SCO had sued IBM, we asked if the SCO lawsuit was slowing down their adoption, [and] only 16 percent said that it was," Schadler told the E-Commerce Times.
"More anecdotally, in work with large user company clients, everybody who has worked with Linux knows that, even with the threat of license fees, Linux-on-Intel is much cheaper than Unix-on-RISC," Schadler added. "For many workloads — Web serving, commerce sites, portals, file and print, and increasingly application servers — it just makes sense to run Linux."
Schadler went on to say: "In my opinion, SCO's posturing in the press is nothing more than keeping the fire lit to keep their stock value up. My recommendation? Don't go long in SCOX."