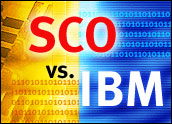 A federal judge in Utah has given The SCO Group 30 days to respond to demands that it reveal more information about the proprietary Unix source code it claims IBM infringed when Big Blue contributed Unix code to the Linux platform.
The judge ruled in favor of motions filed by IBM, which is seeking to force SCO to offer additional information about how IBM allegedly breached a SCO contract.
IBM claims SCO has provided it with nearly 50 CDs containing thousands of pages of source code, without any specific guidance as to which portions of code might have sparked SCO's multibillion-dollar lawsuit against IBM. SCO initially filed the lawsuit last March, seeking $1 billion, but subsequently upped its damages sought to $3 billion.
Hunt and Peck
According to transcripts of the court hearing posted on the Groklaw Web site, the judge agreed with IBM that SCO's decision to turn over some 900,000 pages of code did not provide IBM with adequate information to craft a defense in the case.
The judge gave IBM until Wednesday to draft a specific request and gave Lindon, Utah-based SCO until early January to respond.
IBM also asked the court to compel SCO to detail how each piece of disputed code represents an alleged breach of contract.
Legal observers said it is possible that SCO could appeal the ruling, although a more likely scenario would be for the company to make some attempt at compliance. IBM then might ask the court to dismiss the charges if SCO's response is not detailed enough.
More Conflict Looms
Meanwhile, research firm IDC said the battle raging among IBM, SCO and the open-source community will be a major high-tech story throughout 2004. IDC said it expects IBM to extend the same type of indemnification to its customers that HP unveiled earlier this year in the face of stepped-up legal action from SCO.
For his part, Gartner analyst George Weiss told the E-Commerce Times that Linux users must be wary of SCO's pledge to spend at least US$9 million of the $50 million it recently raised on legal assistance.
He noted that SCO has set a February deadline for launching additional lawsuits against Fortune 500 companies with extensive Linux deployments.
"Companies should keep a low profile with regard to their Linux installations over the next few months," Weiss said. "It may not be prudent to be out publicizing what you're doing with Linux right now."
Conspicuously Absent
The federal judge, meanwhile, put on hold requests by SCO to compel IBM to turn over any code that it contributed to Linux that originated from the Unix platform.
Observers noted that SCO's newly hired high-profile lawyer, David Boies, was not present at the hearing, a possible sign that SCO felt it might lose the early preliminary battle. SCO instead was represented by Kevin McBride, the brother of SCO's CEO, Darl McBride.