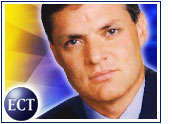 Leaving little doubt about its resolve to press the legal issues surrounding its claimed ownership of part of the Linux source code, SCO Group said it has set aside millions of dollars in cash and stock to pay its high-profile legal team.
SCO also indicated it may move to block Novell's planned purchase of SuSE Linux, saying that by acquiring the enterprise Linux firm, Novell would be violating an agreement with SCO.
SCO, which raised US$50 million in a private stock placement last month with BayStar Capital, said it will pay the firm of Boies, Schiller & Flexner $1 million in cash, plus a grant of 400,000 shares of preferred company stock, making the total package worth nearly $9 million.
Lawsuits Job One?
SCO president and CEO Darl McBride left little doubt that pursuing legal action is a major goal of the company heading into 2004. He also said SCO now realizes it must look beyond its $3 billion-dollar suit against IBM.
"By far the most important asset of this company is our ownership of the Unix operating system, and today we are investing in the protection and future of Unix," he said in a statement. The expanded agreement enables the law firm to move "beyond the contract issues we have with IBM. The firm will be enforcing and defending all of SCO's intellectual property rights."
In published reports, McBride also indicated that SCO believes Novell's $210 million acquisition of SuSE Linux was a violation of a non-compete agreement inked when Novell sold SCO the rights to Unix System V software in 1995. Novell's purchase of SuSE came as the company announced that IBM would sink $50 million into Novell.
Going All In
IDC analyst Dan Kusnetzky told the E-Commerce Times that SCO may have realized that winning additional settlements or voluntary license sales to avoid legal action represents its best chance to survive.
"The fact is, they've made this the centerpiece of their business model, so it's almost an all-or-nothing proposition," he said.
As if to underscore that point, SCO announced that McBride's keynote speech at the Comdex tech conference, slated to take place late Tuesday, will be based on the theme "there's no such thing as a free lunch, or a free Linux."
"[SCO is] making it clear that [it means] business on the legal front, apparently hoping it can drive some business or get some of the targets of its actions to strike some deals," Kusnetzky said.
On Track?
Meanwhile, SCO said it is on track to meet fourth-quarter revenue goals, even though payments to its legal team will hit its bottom line.
However, in a separate filing with the U.S. Securities and Exchange Commission, the company acknowledged that its high-profile battle against Linux may have started to cost it some business and poses additional risk going forward.