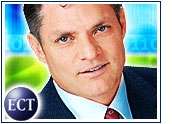 The SCO Group has landed US$50 million in private financing, which it said it will use to expand its business and add strength to its multibillion-dollar legal battles with IBM and others. Those lawsuits focus on alleged use of SCO's proprietary Unix code in the Linux operating system.
BayStar Capital, whose other investments include Sirius Satellite Radio, Commerce One and Evolve Software, will provide SCO with the $50 million in cash in exchange for an approximately 17 percent stake in the software company.
Lindon, Utah-based SCO said the money will be earmarked for a number of initiatives, including expansion of its Web services offerings, additional Unix development and "protection of the Company's UNIX intellectual property and related programs."
Suited Up
SCO also left open the possibility that it could make acquisitions or other moves, saying the cash could pave the way for "new strategic partnerships." The investment brings SCO's total cash on hand to about $61 million.
"The momentum in the marketplace continues to shift in SCO's direction," said Darl McBride, the company's president and CEO. "We believe we have secured the capital necessary to fund all aspects of the long-term growth of this Company."
However, IDC vice president Dan Kusnetzky told the E-Commerce Times that SCO faces brutal competition in the Web services arena. Also, he said, while the company has had limited success in convincing companies to purchase licenses rather than face legal action, it has a long road ahead of it.
"No one knows what will happen, but we do know that it's going to take a while before we get there," Kusnetzky said. "If you're going up against IBM, and the entire open-source community to a certain extent, you need deep pockets to go the distance."
Risky Business
Analysts largely agree that SCO's strategy is a risky one. Its lawsuit against IBM has been estimated to be worth $3 billion, and the total number of licenses that could be sold to Linux users may be worth billions more.
However, companies like IBM are experienced at fighting bruising intellectual property battles from both sides, and the open-source community has made it clear that it will pounce on the first opportunity to create a work-around for whatever code SCO may hold claim to, purging it from the Linux kernel to create a truly open product.
Also, Linux software leader Red Hat recently created a fund to help smaller customers battle SCO's legal maneuvers, and HP has offered its Linux customers limited indemnity for Linux-configured networks that use HP hardware.
Growth Potential
Lawrence Goldfarb, a partner at BayStar, said the investment reflects his company's philosophy of buying into "growth-oriented firms with strong management, substantial market opportunity and solid, comprehensive business plans."
"We believe that all of those fundamentals are in place for SCO to succeed," Goldfarb said.