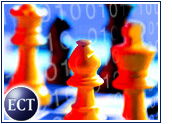 To say the SCO Group has been making headlines frequently is an understatement. Since March, when the company filed suit against IBM for allegedly using SCO-owned Unix code in its Linux systems, SCO has gotten an unheard-of amount of press for a company that, according to its third-quarter results, posted only US$20.1 million in revenue.
In the last 52 weeks, SCO stock has gone from trading for as little as 78 cents per share to more than $20 per share. Regardless of industry observers' opinion of SCO's grievances, the company's decision to battle IBM and the open-source community certainly has boosted it, at least in the short term.
However, as IDC vice president Dan Kusnetzky told the E-Commerce Times, the legal costs SCO is incurring make its litigation business model (as IBM termed it in a recently filed countersuit) a risky one. Resolution could be years away, and there is no guarantee of an outcome that favors SCO.
Kusnetzky added that a legal victory will not necessarily assure SCO's long-term survival either, unless it is acquired or can reposition itself as a licensing company for intellectual property. In addition to selling IP licenses for Unix, the company provides global Web services and its own proprietary flavor of Unix, called OpenServer — but it seems far less focused on these products than on winning its $3 billion lawsuit, and this attitude is unlikely to win it many new customers.
What are SCO's long-term plans? Have the company's recent legal maneuverings positioned it for a windfall followed by long-term licensing success, or have they opened a Pandora's box of problems that ultimately will lead to its demise?
The Problem with Litigation
Aberdeen Group research director Bill Claybrook told the E-Commerce Times that if SCO fails to win its lawsuit, the company's stock will drop to $0 because it does not have any products that anyone wants to buy now, let alone four or five years down the road.
According to Claybrook, OpenServer's install base has been eroding, and SCO has not made any significant enhancements to the product that might stanch the customer outflow. Nor has SCO ever established a Linux presence, which could have mitigated at least some of the hostility that has united the open-source community against the company.
Moreover, Kusnetzky said that to strengthen OpenServer's and UnixWare's market positions, SCO, which does not sell hardware, must maintain good relationships with hardware vendors.
"But who would trust [SCO] after the IBM suit?" he said. "And they have threatened end-user customers with litigation. In effect, they have destroyed themselves as either a Unix or Linux supplier."
Beyond Linux
SCO spokesperson Blake Stowell told the E-Commerce Times that he is well aware of the objections IBM, Red Hat, the open-source community and its allies have to SCO's decision to aggressively pursue the companies it has charged with copyright infringement.
However, Stowell noted that SCO's long-term business strategy does not revolve around the lawsuits. In a recent E-Commerce Times article, he said that SCO's attorneys are working on a contingency basis, which means they will be paid only if SCO wins.
Instead, Stowell said, SCO's long-term plans revolve around future developments to its Unix platform and the expansion of SCOx, the company's .NET equivalent targeted at the small and medium business market, with emphasis on certain verticals.
SCO's TAK(Group)
SCO already has announced a partnership with Portland, Oregon-based TAKGroup, a privately held company that provides e-services and management applications for the downstream petroleum supply chain. TAKGroup's customers, including major petroleum vendors CITGO, ChevronTexaco and ExxonMobil, use the company's technology to move their oil and petroleum from ground pumps all the way to individual service stations.
TAKGroup CEO Randy Edgerton told the E-Commerce Times that his company chose to partner with SCO because SCO has a couple of attributes that are critical to success in his industry: great technology and a large global reseller network that can provide services at a local level — which, in TAKGroup's case, is often the local gas station.
TAKGroup's use of SCOx technology, Stowell said, allows TAKGroup to extend its services beyond its U.S. sites. Also, by taking advantage of SCO's reseller network, TAKGroup can accomplish tasks more efficiently than it can using its own resources alone.
As Edgerton put it, "From our vantage point, [SCO] offers real opportunity for small and medium businesses, and more so those customers who are served by these businesses."
The question now is how many customers will agree when the dust settles.