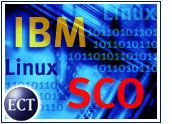 IBM has expanded its countersuit against The SCO Group, saying SCO has harmed Big Blue's Linux business with its claims that IBM incorporated SCO's proprietary Unix code into AIX and Linux products. In addition, the high-tech giant has turned the tables by arguing that SCO actually stole some of IBM's own software code.
However, IBM's sales force also is telling customers that Big Blue will not follow Hewlett-Packard's lead by indemnifying customers against legal action by SCO. According to IBM, such a gesture would be largely meaningless because customers often modify Linux code to suit their specific needs anyway.
Still, many analysts said HP's indemnity offer is likely to resonate with customers who are watching the SCO/IBM dispute from a safe distance.
"A lot of people are going to see the move as HP saying they stand behind what they sell, even if it's open source," Aberdeen Group research director Bill Claybrook told the E-Commerce Times. "Whether that's true in every case is another matter, but it might be enough to calm some frayed nerves."
Against Expectations?
For his part, IDC analyst Dan Kusnetzky said he had expected IBM and others to follow HP's lead. According to Kusnetzky, indemnification would give customers confidence that if they were sued by SCO, they could count on protection from a deep-pocketed ally.
Now, with two of the biggest Linux vendors split on the legal protection issue, others may wait to act.
Kusnetzky noted that IBM could believe it is taking a similar tack even without formally offering to protect customers.
"IBM's approach seems to be to stand up in front of the train and offer to take the direct hit," he told the E-Commerce Times. "They're already in the fight directly, having been sued and having countersued. Maybe they figure they don't need to prove to their partners and customers that they're willing to take on the fight, because they already have."
The Saga Continues
IBM first countersued SCO shortly after the Utah-based company shocked the open-source world by filing a US$3 billion lawsuit alleging the tech giant had infringed on SCO's patents with its Linux offerings.
In contrast, the latest charges allege that SCO infringed on IBM patents in violation of the terms of the General Public License (GPL), borrowing seven pieces of software on which IBM says it held copyrights.
SCO responded to the amended complaint by issuing a statement Monday that said the GPL is a "shaky foundation on which to build a legal case."
"IBM, not SCO, has brought the GPL into the legal controversy between the two companies," the statement said. "The GPL has never faced a full legal test, and SCO believes that it will not stand up in court. We are confident that SCO will win the legal battle that IBM has now started over the GPL."
Additionally, SCO's statement argued that inserting the GPL into the controversy appears to be a way for IBM to avoid offering indemnification to its customers.
Wait and See
The SCO suit is expected to take at least another year to go to trial — and once it does, the trial could take several months. Bridging that time gap has become a major focus for many Linux vendors. Late last week, HP said it would offer customers indemnity from SCO lawsuits if they use HP's hardware to run Linux.
SCO quickly pounced on that offer, calling it an admission that most Linux programs violate SCO's patents.
Perhaps for that reason, IBM has chosen a different approach. In a memo to his company's field sales personnel, IBM vice president Bob Samson said that offering legal shelter goes against the spirit of Linux, which is designed to leverage the flexibility of the open-source philosophy to create powerful customized deployments.
"Customers buy Linux principally for the quality of the operating system, broad vendor choice in hardware, distribution and maintenance and freedom to modify source code," Samson wrote. "Most indemnities are narrowly drawn and are often invalidated by customer activities, such as making modifications or combining the indemnified product with other code, which are central to the vitality of open source."