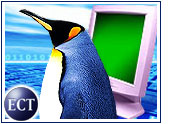 In a move that could significantly alter the Linux competitive landscape, Novell has said it will buy privately held SuSE for US$210 million in cash. SuSE trails only Red Hat in the race for market share among users of the open-source Linux operating system.
As part of the agreement, Novell also will accept a $50 million cash investment from IBM when the deal closes. That is expected to happen by the end of the first quarter of 2004. Novell reportedly is working on extending existing agreements that enable IBM to sell eServer products and middleware using SuSE Linux.
The merger sets up several intriguing competitive scenarios involving Novell, a major Microsoft rival, and IBM, which has found itself the favorite target of legal darts in the battle over who really owns the rights to Linux source code.
Moving on In
Novell signaled its intention to move further into the Linux space in August, when it bought Linux server software maker Ximian for an undisclosed amount. That move gave it access to a highly regarded Linux innovator. Moreover, earlier this year, Novell announced it would make all of its NetWare products available to run on Linux.
Novell CEO Jack Messman said his company's moves and its commitment to bring "significant resources" to bear on the Linux opportunity are its way of "responding to customer demands for open, standards-based computing."
"With this acquisition, Novell will be the only billion-dollar software company with a Linux distribution and a worldwide ecosystem around it," Messman said. "No other enterprise Linux vendor has the operating system experience and the worldwide technical support capabilities that Novell will be able to deliver."
For his part, SuSE CEO Richard Seibt said the acquisition aligns SuSE's product expertise with Novell's worldwide marketing platform and solid reputation for providing enterprise-class solutions.
Wild Cards
While SuSE has kept its financials close to the vest, there is speculation that it has benefited from rapid growth in the Linux market, as has market leader Red Hat. Novell noted that SuSE dominates the enterprise market in Europe and has made strong inroads in Asia and Latin America. The company said it intends to maintain most of SuSE's partnerships, which include deals with Oracle, AMD and HP.
Gartner analyst John Enck said that although Novell gained instant credibility among hard-core Linux believers when it bought Ximian, it still has work to do to show it is promoting Linux rather than trying to take down longtime rival Microsoft, whose servers still run many Novell products in enterprises around the world.
"Novell has a history of stumbling when it comes to making it on the desktop," Enck told the E-Commerce Times, which made the Ximian purchase a risk. "Whether they can turn that around with Linux will be an interesting experiment to watch."
Now, Enck noted, Novell will have an even tougher time trying to balance support for and encouragement of open-source development while maintaining a commitment to its own commercial products. "There's potential rewards and potential risks," he said.