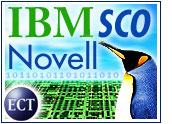 On Tuesday, The SCO Group accused Novell of libel, claiming Novell has interfered in bad faith with SCO's Unix copyrights. SCO's lawyers filed the lawsuit in state court in Utah, where both companies' headquarters are located, asking for "preliminary and permanent injunctive relief, as well as damages."
"SCO takes this action today given Novell's recent and repeated announcements regarding their claimed ownership of the Unix and UnixWare copyrights," said attorney Mark Heise, whose law firm, Boies, Schill, and Flexner LLP, has represented SCO since the company filed suit against IBM last year.
"SCO has received many questions about Novell's actions from potential customers, investors, and the press," Heise said. "Although SCO owns the Unix and UnixWare copyrights, Novell's efforts to claim ownership of these copyrights have forced this action."
Allegations
In its latest filing, SCO made several allegations against Novell. Specifically, the company claimed Novell improperly filed copyright registrations for Unix technology covered by SCO's copyrights and that Novell, in bad faith, tried to block SCO from enforcing those copyrights.
In addition, the filing stated, Novell's actions were intended to scare customers and potential customers away from doing business with SCO and have done irreparable harm to SCO's copyrights, business and reputation.
Yankee Group senior analyst Laura DiDio told the E-Commerce Times that, although she is not a copyright expert and therefore cannot state with assurance or authority that either SCO or Novell has the best claim, she can offer her opinion.
"My opinion is that, on the surface, the executives at Caldera (which originally bought the Unix System V copyrights in 1995 from Novell and were all ex-Novell executives) would have had to have been extremely stupid or crazy to pay in excess of $100 million and not get the copyrights," DiDio said. "It's likely that the SCO Group does own the rights. However, there may be some legal loophole in the contract that the public is not aware of."
Sabre Rattling
DiDio added that the correspondence between the two companies suggests to her a lot of posturing and sabre rattling on both sides and that it also appears that Novell is willing to do anything to curry favor with IBM.
As to motivation, "Only Darl McBride, the CEO of SCO, can say for certain what his motivation was in filing the suit," DiDio said. "To an industry observer like myself, it appears that there is a lot of bad blood now between Darl McBride (an ex-Novell executive) and Jack Messman (who was on Novell's board of directors for 10 years prior to becoming CEO). This is nasty, and it will get even nastier as time goes on. I'm sure that McBride feels he is protecting SCO's interests. When and how this will end is anyone's guess."
Novell's Response
Novell spokesperson Bruce Lowry told the E-Commerce Times that his company is not commenting on lawsuits to which it is a party.
"We're just saying we will defend our interests," Lowry said, adding that Novell released a statement late last year explaining where it stands on the issue and offering a link to correspondence between Novell and SCO that Novell says supports its assertions.
According to the statement, Novell believes it owns the copyrights in Unix and has received copyright registrations consistent with that position.
"Contrary to SCO's public statements, SCO has been well aware that Novell continues to assert ownership of the Unix copyrights," the statement concludes.
Possible Motives
Aberdeen Group research director Bill Claybrook told the E-Commerce Times that although the case details have become incredibly complex, it seems SCO's latest action is just another in a series of moves the company has made to keep the IBM lawsuit at the forefront of technology news. He said he does not believe SCO will win its case against IBM.
SCO wants to get as much money as possible, thereby positioning itself to generate revenue before the IBM lawsuit plays out, Claybrook said. The Unix licenses SCO has offered to enterprises are another way for the company to earn revenue, enabling it to stay in business.
"SCO is trying this case in the press with masterful precision," Ted Schadler, vice president of software research at Forrester, told the E-Commerce Times. "They time their announcements for maximum press exposure, and they tackle the entrenched powers where they believe they're weakest.
"At the end of the day," Schadler added, "SCO is after the most money it can make, and at the end of the day, the entrenched powers like IBM, HP and Novell will find a way to settle for the least amount they can. All players will use the press to further their claims, far in advance of the courts' measured pace."
Beyond the Pale?
Yankee Group senior analyst Dana Gardner agreed that SCO appears to be fighting a PR and public-perception battle with its lawsuits.
"They're suing in every direction, and it's getting kind of silly," Gardner told the E-Commerce Times. "They're going after Novell's clients and potential clients, IBM and its channels, the whole lineage of Linux code. Are they going after Martha Stewart next?"
Gardner went on to say that SCO is doing a general disservice to the technology community by filing what he considers to be frivolous lawsuits. "These are serious topics that affect people's livelihoods and mission-critical applications being developed. [SCO] needs to go against a magistrate or judge already and get [these lawsuits] settled," he said.