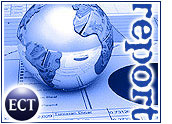 Established professional Internet services companies have the best opportunity to gain market share in a shifting environment — despite the flexibility and creativity of their emerging and mid-level competitors — according to research released Wednesday by IDC.
"Customer requirements are changing in the Internet services market," said IDC senior analyst Nicole Weber, "and the breadth and depth of technical skills that the established firms provide are taking precedent over the Internet-savvy creative capabilities of the pure play."
Of the three types of Internet services firms it identified — emerging firms, evolving firms, and established firms — IDC believes that established firms have the best chance of succeeding, but acknowledged that some emerging firms have opportunities to grab market share by undercutting the competition.
The research firm's report series, "Survivor: Competing in the Internet Services Market," concluded that rewards would be plentiful for the Internet professional services firms that survive the ongoing shakeout.
Top Dogs
IDC named the top firms in each of the three categories. IBM Global Service (NYSE: IBM) and PricewaterhouseCoopers are the among the top established firms, the research firm said.
Among emerging Internet professional services firms, Experio Solution, ePresence (Nasdaq: EPRE), and eForce are the best positioned to gain market share, according to IDC.
Leading the evolving professional services firms are Sapient (Nasdaq: SAPE) and Cambridge Technology Partners, the report said.
Squeeze Play
Caught in the middle of the Internet squeeze play — between established firms and emerging firms — are the mid-level or evolving professional services firms, which are mostly pure plays, IDC said.
"Established players have longer operating histories, larger client bases, longer relationships with clients, greater brand name recognition, and significantly greater overall resources than most evolving firms," said Weber.
"At the other end of the spectrum," Weber added, "emerging Internet services companies may offer Internet services at a lower price, forcing the pure plays to compete on price, which squeezes their margins."
Weber told the E-Commerce Times that pure-play companies are suffering the consequences of several years of heavy spending.
"The pure plays need to show profitability and that's difficult to do in the short term," Weber said.
On Deck
Emerging Internet services firms — such as Novo, Osprey, and Zengine — may not have the brand recognition of evolving or established Internet service firms, but most are also free of the heavy debt load that their competitors have accumulated while trying to build name recognition, IDC said.
Another advantage enjoyed by most emerging companies is that many are privately held, which means they fall under less scrutiny than the mid-level and established companies that are usually publicly traded.
Being younger than other professional Internet service firms is not a disadvantage for most of the emerging rivals, according to Weber. She said that because many of the emerging companies are regionally based, they are able to attract large regional customers.
Choose Your Partner
Large regional companies are "just as likely to go with them, especially if they can save money," Weber said.
Many emerging companies also do not have the stigma of a dot-com name.
"Customers are skeptical of pure plays," Weber said, adding that many companies do not want to embark on a long-term venture with a evolving, pure-play Internet firm.
Worldwide spending on Internet services, including consulting, implementation, operations management, and software support and integration services, reached almost US$22 billion in 2000, according to a report earlier this week by IDC.