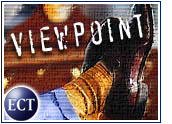 Successful Old Economy players often say, "Be careful about the guy who says he's got so much business he can't take on any new clients."
Internet consultants used to brag about their fortunes, both financial and in numbers of clients — until the bottom fell out of their business. It was an adventurous flight while it lasted, with bountiful sums of venture capital and startup clients who thought their e-consultants hung the moon.
From the big boys with names like PriceWaterhouseCoopers and Accenture (formerly Andersen Consulting) to the wanted-to-bes like Razorfish and Scient, the great adventure that was e-consulting has revealed itself to be a miscalculation of unprecedented proportions.
In Q3 of 2000, for example, more than half of the 30 publicly traded e-commerce consulting companies fell short of estimates. Moreover, from October 1st to the end of last year, seven leading Internet consulting firms reported an average price dropoff of 71.6 percent, a development that sparked a spate of layoffs in the consulting industry.
Consulting, a once-promising arm of e-commerce, has dissolved into yesterday's news.
Consultant, Heal Thyself
In a desperate attempt to salvage their commercial dream, American e-consultants have crossed the pond and expanded operations into the European market.
Unfortunately, consultants already operating on that side of the world are also struggling. Icon Medialab of Sweden, for example, had a Q3 loss of US$24 million.
Those successful Old Economy types would say that international expansion among American consultants, with their domestic picture so abysmal, is foolish and ill-timed. The marketing of consulting services to startups is no easy sell when the consulting firm itself is barely treading muddy financial waters.
Meanwhile, the bigger dot-coms already have a better idea — why not just simply hire consultants with proven track records to be part of the staff, rather than enlist consulting firms whose own track records are spotty?
Questionable Evolution
Even the premise on which e-consulting was based is odd. Supposedly, since the Internet was a new animal, those who had spent decades successfully guiding businesses toward profitability and longevity would not be able to participate in the pioneering efforts of dot-coms.
"How could they?" the e-commerce braintrusts asked. Even though traditional consultants performed well, they couldn't possibly share the vision of the New Economy. It's too revolutionary, too edgy and far too sophisticated. The new medium would call for younger, more avant-garde, cutting-edge types.
Hindsight now indicates that this widespread attitude was a case of style over substance.
Even the strongest e-consultants, those who did a quality job of designing Web sites and creating sales strategies, had one fatal flaw. They lived in the moment. They were not well-versed in long-term asset management and growth. They could make it look pretty, get it up and running, but they couldn't ensure anything much past tomorrow morning.
Old Timers Rule
Meanwhile, the savviest dot-com startups have begun to see the error of their consultants' ways. Now, many of them enlist the services of the PriceWaterhouseCoopers genre.
Established major players who have smartly, yet cautiously, added an e-commerce consulting unit are now emerging as the saviors.
The distinction between them and other e-consultants? Smaller, newer consulting firms may have been too cozy with their venture capitalists, who often doled out clients as well as cash, and who are now retreating from e-commerce startups.
Eleventh Hour Comeback
Can e-consultants escape extinction?
Perhaps. There are a number of possible scenarios in which e-consultants could rise again. First, struggling consultants could shift their focus from pure-play dot-coms to established brick-and-mortar companies that want to diversify into e-commerce.
Second, e-consultants need to move away from attempting to sell themselves as the innovative firm that brought "new product or service XYZ" to the Internet. Most companies now have a Web presence. Consultants should concentrate on simple market strategy, supply-chain integration and long-term growth issues.
Finally, smaller consultants need to learn how to become full-cycle providers. That means once the site is up and running, the consultant must be willing to take some financial risks with the client and commit to a long-term growth relationship, despite the unknowns.
The days of freewheeling consulting are over. Those who want to stay in the game will need to play harder and smarter.
What do you think? Let's talk about it.


---
Note:
The opinions expressed by our columnists are their own and do not necessarily reflect the views of the E-Commerce Times or its management.
---