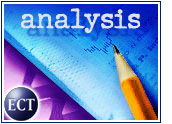 As recently as a year ago, it was an easy decision for a top-level executive to join a Net company. Sure, they would work extra hard and take a lower base salary, but in the long run, their insanely generous stock option plans would be well worth the toil.
Poof. The clock struck midnight and the compensation packages that seemed like such a no-lose deal for top-level e-management have bottomed out. According to a Board of Directors Study conducted last year by Korn/Ferry, an international executive recruitment company, stock made up an average of 63 percent of the total compensation packages for directors in advanced technology companies.
Check out the Nasdaq last year? Ouch.
So where do dot-coms go from here? How can they continue to lure the nation's top senior executives without the continued promises of millions in stock option payoffs? And even more importantly, how can they keep the executives they already have? The answer may surprise you.
No Slash and Burn
On the surface, the logical next step for the failing dot-coms would seem to be to slash executive salaries in order to control costs. But in fact, the exact opposite is happening.
According to a recent study by management consulting firm Hewitt Associates and WetFeet.com, pre-IPO Internet companies are actually increasing the base compensation they offer in order to attract and retain employees. This trend holds true for upper management as well.
"You would assume that because so many dot-coms are losing jobs, those getting hired are getting hired at lower prices, but I don't think that's the case," Korn/Ferry managing director Jana Rich told the E-Commerce Times. "The compensation for early stage companies is actually going up."
David Chase, a principal at the Manhattan-based executive pay consulting firm William M. Mercer, told the E-Commerce Times that he is seeing the same thing happening in dot-coms that brought executives in at below-market salary levels.
Plan B
"With all the options going underwater, they're having to bring salaries up significantly," Chase said.
In dot-coms that pay at or above market levels for their senior executives, Chase said the trend is towards increasing incentive programs rather than changing base salary levels.
For the companies that do not have equity gains to sell or the cash to increase executive pay, base salaries are actually being raised from the bottom up to keep key tech and sales members, Chase said. These companies are also offering cash stay bonuses or restricted stock to keep execs from jumping ship.
And although few top dot-com executives are taking pay cuts, many are eliminating some of their bonuses, Chase said.
Where's the Cash?
But how can dot-coms justify salary cash increases in a time when cash flow is at an all-time premium?
"The reason they can accept that scenario is because they're bringing someone senior in, who the belief is that they can turn the company around," Rich said.
The dot-coms are also taking into consideration the cost of losing a key management person, which can put a company six months further behind, Chase said.
Andy Oelbaum, president of ExecPay.com, a compensation consulting firm, told the E-Commerce Times that dot-coms are focusing on keeping their core group of key players by cutting costs through layoffs.
"They're telling their stars 'you'll work harder, but we'll pay you more,'" Oelbaum said. "They're spending their money more judiciously."
Not Losing Ground
Despite the tech company shakeout, compensation analysts agree that dot-com executive salaries are still competitive when compared to other companies within the tech industry.
"Compared to non-Net companies, a lot of executives are still very reasonably paid," Oelbaum said. "All along as companies that have survived have grown, they've kept salaries at the top of the market range. Even before they go public, they have to pay comparative salaries to attract the top executives."
Added Rich: "Because the industry is maturing, there's a lot more salary equalizations. Packages are getting closer to being equal, but there's still less cash in the dot-coms."
Other Motivations
However, Chase said that although dot-com salaries are generally competitive with the regular tech market, "you're still selling them opportunity, so you're not having to pay them at market or above market."
Even though the expectation of stock option millions is fading for dot-com executives, Chase said that these other motivations remain important.
"[Executives] still want to be part of something that's new and exciting — that's a big part of motivation that hasn't gone away," Chase said. "But whereas before they were willing to trade options for base salary, now they're saying I want the cash now," he said.