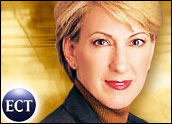 The high-tech economy spawned a new breed of the super-wealthy by appealing to the gambling lust of some very smart and extremely ambitious people. They made their fortunes not through blood, sweat and tears, but through stock options. Some of the billionaires thus created are worth a few billion dollars (US$) less now that the high-tech frenzy seems to have rolled to a more manageable pace — if not quite a halt.
But for those less comfortably situated — say those whose net worth may be hovering in the low millions and sliding southward — company shares no longer have the same delicious appeal. For new entrants into the high-tech job market, the prospect of stock options has degraded to the ho-hum level. It seems that as a strategy to attract the best and brightest, offering stock options is no longer an option.
You Lose, You Win
Last summer, Joseph Galli stunned Wall Street by becoming Amazon.com, Inc.'s president and chief executive officer instead of taking the helm of PepsiCo, Inc. Galli was lured to the post by an exceptionally appealing compensation package. In addition to his salary and other perks, Amazon agreed to give Galli two 20-year stock options, which will vest at 10 percent a year at different stages of his employment with the company.
Galli's options can be exercised at about $113 per share, which was the price of Amazon stock when he took the helm. The stock is currently hovering at about $42 per share, but when Galli logs in four years with Amazon, he will be eligible for a bonus that could reach $20 million if Amazon's stock price should be weak and thereby reduce the value of his options.
Carly Fiorina also made a news splash when she became Hewlett-Packard's new chief executive last summer, landing a compensation package valued at $85 million — give or take a few — that makes her one of the highest paid chief executives in the world. Included in the package is a grant for the equivalent of 580,000 restricted HP shares over three years — a block of stock worth $66.1 million when Fiorina signed on.
As all the signs pointed to unlimited growth potential in the sunlit Internet world, accomplished executives joined the electronic commerce revolution with few backward glances. According to numbers from the Bureau of Labor Statistics, the fastest growing sectors over the next 10 years will be high-tech and e-commerce.
New Economy Math
However, while 1.2 million college students in the United States earned bachelor's degrees last year, only 5.5 percent received engineering degrees. The result is an equation that even a non-engineer can understand: high demand + low supply = shortage. As the job market for skilled high-tech workers tightened at every level, e-businesses felt compelled to dangle bigger and better carrots to draw top employees to their folds.
Generous health benefits, flex time, liberal vacation schedules and company matching funds for 401K plans became de rigueur. But best of all, for many job candidates, were the offers of stock options.
Taking the model to the sublime, Andersen Consulting decided earlier this year to invest $200 million into e-commerce-related companies on behalf of its employees and kick in an additional $100 million each subsequent year. The firm will share the wealth created by these units as bonuses and benefits.
Andersen said the plan is designed for what the company characterizes as "top-performing and long-term" employees. "We are doing this so that those who build their careers with Andersen Consulting will be able to share in the wealth created by the firm," said Vernon Ellis, the firm's international chairman. "We are blazing a trail our competition will envy."
You Lose, Period
However, the bloom was off the rose rather quickly for some of the top employees who made the leap to the e-business bandwagon. Things went sour for two former executives of iVillage, Inc. who filed lawsuits claiming that the Web site lured them from established companies with promises of lucrative compensation packages that never materialized.
Joanne Hindman, a former financial officer at Newsweek magazine, and Steven Carter, a former executive at NBC Cable Networks, said they signed on with iVillage as CFO and vice president of sales respectively, because the company promised significant stock options along with their base salaries.
The two were fired after they balked at certain questionable iVillage business practices, they said, and they claimed that they never received any of the 280,000 stock options that were promised them. In addition, both contended that they were fraudulently coaxed into leaving secure positions by iVillage.
iVillage has stumbled in recent months, with mounting financial losses and the exit of several more top executives. A third filed a lawsuit similar to those brought by Hindman and Carter — all three were settled. But as iVillage divests itself of some of its e-commerce offerings, apparently moving toward becoming an advertising supported content site, it is unlikely that the prospect of stock options in the company will be enough to keep top level talent interested in joining its ranks.
Dot-Com Gamble? Forget About It
Even recent college grads, who are typically willing to undertake a greater measure of risk in beginning their careers, are growing cool to once-popular dot-com perks. Results of a recent survey by WetFeet.com showed that career development through training, mentoring programs and solid business experience ranked higher in importance than "quality of life" considerations — such as casual dress, private offices and weekends off — that were the typical drawing cards for e-commerce and Internet companies in the not-so-distant past.
Though the survey respondents rated salary as less important than career development, prospective new employees in the Internet business said they want to be well compensated. Undergraduates expect to start with an average base salary of $45,000, while MBAs say they expect a base salary of $93,500 plus signing and year-end bonuses worth about $37,000. Other key economic benefits such as 401K and health care plans are also deciding factors — ahead of stock options.
In fact, the survey revealed that top college and business school graduates are increasingly forgoing Internet companies in favor of consulting firms and investment banking firms. Although two-thirds of new graduates rated the Internet as "the hottest industry of all," only 18 percent of respondents said they wanted to work for Internet-related companies, compared to 67 percent who would rather get into management consulting or investment banking.
In a climate where over-hyped IPOs are failing to live up to their opening prices, graduating students say a job with stock options is less attractive than one that offers high quality job experience.
The workers who are drawn to the Internet world are typically young, creative, well-educated and driven. The potential loss of employees who fit the "dot-com profile" could be as big a blow to the long-term health and stability of the Internet as the evaporation of the capital pool.
Family Loyalty at a Price
Even Microsoft, the company that gave birth to the high-tech dream, discovered that its corporate atmosphere was beginning to take on the ambience of a sinking ship during the height of its antitrust woes earlier this year. Bleeding internally with morale problems, the company handed out bonus stock options to its employees — a move that many saw as a bid to shore up support and boost confidence about Microsoft's long-range health.
But the move generated less than overwhelming gratitude from all quarters. With the decline in the company's share price, the extra options were seen by some merely as a gesture to make up losses. Until the company's case is resolved, investors will continue to jump ship and employees will search for greener pastures.
Luxury Goods, Creature Comforts
With high-tech workers growing increasingly elusive, another recent survey from Deloitte & Touche found that technology companies are being forced to offer some unusual perks to recruit and retain employees. "Going against the conventional has become the norm for companies in the new economy, with creative perks ranging from new luxury cars to on-site corporate chefs," said Mark Evans, managing director of Deloitte & Touche's Technology & Communications Group.
For some companies, the key to hiring high-tech workers is letting them stay at home, the report said. Forty-two percent of the chief executives interviewed for the survey said they offer telecommuting to their employees, while 45 percent said they allow flexible work schedules and job sharing.
Many companies are convinced that the more attractive they make the workplace, the greater their chances are of keeping top-notch talent. One Pennsylvania software company, for example, offers dry cleaning, haircuts, shoe-shines, catered meals, flu shots, a gym and massages on site.
Here Today
However, more conventional perks are still frequently being used in the high-tech sector to attract and keep top talent. According to a separate study by executive-compensation consulting firm Pearl Meyer & Partners, stock options are still a strong recruiting tool. The study found that large technology companies allocated an average of 19.4 percent of their outstanding shares and granted 2.8 percent of their outstanding shares to employees.
But for those who dream of a magical way to make a fortune, or for those who simply yearn for a practical solution to the high-tech worker shortage, stock options have all the appeal of a candy wrapper tossing in the breeze.