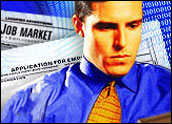 As dot-coms mature, so do the pay practices of the online industry, according to the Unifi Network Internet Compensation Survey 2000 released Tuesday.
According to the survey of 123 companies, dot-coms have increasingly adopted short-term incentives and bonus plans that are tied to more traditional business performance metrics — such as increased revenue or nearing profitability — than in the past year.
The shift in bonus strategy is good news for many dot-com employees, because year-end performance bonuses have increased an average of 15.5 percent over last year.
"These results evidence a continuing maturation process by Internet companies that has them acting and feeling more like traditional brick-and-mortar firms," said Edward J. Speidel, a director in Unifi's Executive Compensation practice.
Cash, Not Options
Although dot-coms are being forced to pay increased attention to the bottom line, recruiting top talent is still critical to expansion. However, the downturn in the stock market is forcing companies to restructure their compensation packages to offer more cash signing bonuses, the study said.
Unifi senior analyst Craig Kams told the E-Commerce Times that in the past, many new recruits were likely to take equity instead of cash because high stock values made such packages more lucrative.
However, according to Kams, the mixed stock market has made these long-term equity options less valuable in the eyes of new recruits, and they are asking for higher salaries in addition to stock options.
In turn, companies have become more selective about which employees receive stock options, Kams said. In the past, stock options were often handed out based on position, but now more companies are tying stock options to performance and what employees bring to the table.
Founders' Focus Shifts
The maturation of the dot-coms is also leading more and more company founders who had been holding positions as company CEOs to relinquish day-to-day responsibilities to outside talent.
"More founders are taking on the role of chairman and assuming more strategic duties," said Carl Weinberg, a principal with Unifi Network's Executive Compensation Division. "In doing so, they are leaving the top operations spots of CEO and COO open for more experienced operational leaders."
More Cash for Execs
Top Internet executives are also seeing bigger paychecks. The survey found that this year, top executives are being rewarded with greater cash compensation packages, including base salary and bonuses, than in years past.
The top three positions — Chief Executive Officer, Chief Operating Officer and Chief Financial Officer — were paid total cash compensation that increased more than 13 percent over last year. The increase was due to a rise in base salaries of at least nine percent and an increase in bonuses of at least 28 percent.
However, despite the focus on short-term incentives, equity still remains a key component of Internet executives' overall compensation. The survey showed that equity compensation has continued to climb since 1999, with an average increase of one percent over comparable data from that year.
The survey by Unifi, a division of PricewaterhouseCoopers, also found that in response to the volatility in the market, dot-coms are granting stock options more than once per year. Speidel pointed out that granting stock options periodically throughout the year allows companies to average the strike prices over the year.