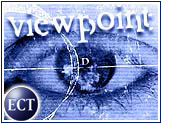 Anyone who has ever worked in sales knows what separates the winners from the slackers is The Big Get.
It's all about closing the sale, reeling them in. It comes down to one part psychology, one part manipulation and one part luck.
So when we're dealing with selling online, the psychology and manipulation parts are a bit more complicated. After all, there's no eye contact and none of that all-important chemistry between salesperson and consumer.
Enter the abandoned shopping cart. Lots of them, in fact. A study released late last year from management consultants A.T. Kearney said US$3.8 billion in online sales are being lost because four out of five transactions are never completed. Clearly, e-tailers are having a tough time closing the sale.
Information Overload
The research reveals the reasons e-shoppers are giving up mid-sale. First, they're frustrated about how much information they have to offer just to have the privilege of spending their money on a Web site. You know how that goes — recently I had to check off items on one of those lists that ask what my shopping interests are. It listed everything from apparel to "adult pleasure items," 37 items in all. And that was just one of 11 questions.
The second reason shoppers throw in the towel is our old e-commerce standard complaint — security concerns. It has become clear that consumers are making slow progress in increasing their comfort level with revealing credit card information. If ever there was a stumbling block to closing e-sales, it's all about giving up those card numbers.
The lessons here are clear: first, e-tailers have to stop using every consumer as a market research subject. Frankly, had the Web site not asked me those 11 questions, I'd be far more apt to remember it a bit more warmly than I do now.
The Long Hello
Second, the e-commerce community must do whatever it takes to reassure the buying public that their secrets are safe. Picture the poor novice e-shopper who has to spend 10 extra minutes answering irritating questions, and then must relinquish one of the last bits of privacy he has — his credit card number.
This is not to say that all Web sites are making the wrong moves with consumers. In fairness, once you've told your life story to a Web site, the next visit usually can be completed more expeditiously. You may know that, but there are still tens of millions of consumers out there who haven't yet become e-shoppers.
Business to consumer e-commerce is still in the process of proving itself to a highly skeptical consumer base. Often, all it takes to turn off a prospective buyer is one time-consuming, failed attempt to complete a transaction.
Simplicity Sells
Once again, e-commerce could look back to its ancestral homeland, retailing, for a quick refresher course in closing the sale. Consider a recent study by Accenture (formerly Andersen Consulting) that tracked consumer experiences over the holidays on 14 Web sites selling clothing.
Even though we've heard glowing reports about the online consumer experience, the Accenture study found that 80 percent of shoppers using apparel sites are not satisfied. Of those who had a bad time online, 72 percent said they would be unlikely to return to the scene of the crime.
The common complaints? Confusing site navigation and difficulty finding information about sale prices, gift certificates and returns. These are the very elements of the shopping experience that brick-and-mortar companies have almost perfected. Shoppers are attracted to the basics: low prices, good signage and colorful displays. It is often the visuals that count most.
Complicated, text-heavy home pages that require two to three click-throughs just to get to the desired products are a turnoff.
No Second Chances
However, some e-commerce companies have decided to reject what's old in favor of innovation. Probably not the wisest move.
Go to some of the star performers of this past holiday season, such as CDNow.com, JCPenney.com or Walmart.com, and you may be surprised to find your old favorites: compelling visuals, clearly displayed prices, and quick, simple methods to buy what you want.
Additionally, most of them only ask for essential information, such as e-mail address, shipping address and payment information.
Simply Irresistible
The A.T. Kearney study concluded that shoppers want to get in and out, quickly and efficiently, and advised online retailers to limit requests for information, never ask for the same information twice, state the return policy clearly, and before they even go live, involve customers in design and functionality testing.
And here's the best part: Kearney says American shoppers are definitely capable of spending online. Thirty-one percent would buy anything over the Internet, and of six countries studied, U.S. shoppers spend the most per year: $1,096.
Internet users are standing at the starting line, ready to shop. All e-tailers have to do is make it simple and irresistible.
What do you think? Let's talk about it.


---
Note:
The opinions expressed by our columnists are their own and do not necessarily reflect the views of the E-Commerce Times or its management.
---