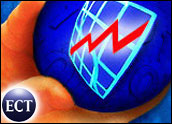 Traffic to e-tail sites during the just-concluded holiday shopping season spiked 30.3 percent from 1999 levels, with online retailers registering an average of 34.2 million unique visits each week, according to data released Friday by Internet measurement firm Media Metrix.
Moreover, the study found that the year-over-year increase at retail sites eclipsed the overall Web growth rate of 18.6 percent during the same period.
Although retail sites during the week after Christmas saw a 15.2 percent drop compared to the holiday season average — to roughly 29 million average daily visits — the report said that traffic for that period was still up 27 percent over the same week in 1999.
The Media Metrix index measures home and work visitors to nearly 400 retail sites.
Flying Bricks
The most notable shift in online purchasing trends during the 2000 holiday season, according to Media Metrix, was the growing influence of brick-and-clicks in the e-commerce arena, thanks to brand awareness, a built-in base of customers and their overall retail experience.
"While retail sites drew an unprecedented number of online shoppers this holiday season and even had an aggregate growth rate surpassing that of the overall Web, this year will be better remembered by the strong performance of many traditional offline brands," said Media Metrix analyst Anne Rickert.
In fact, six of the top 10 gaining retail sites for the holiday shopping season were traditional offline brands: Walmart.com, BestBuy.com, AmericanGreetings.com, Staples.com, Hallmark.com and Sears.com.
Walmart Leads
The leader of this pack was Walmart.com, which for the five weeks leading up to December 24th saw a 640 percent jump in traffic to 370,000 average daily unique visitors.
BestBuy.com registered a year-over-year holiday increase of 203 percent, with its average holiday visitor rate jumping from 82,000 in 1999 to 249,000 in 2000.
Amazon Reigns
At the same time, Media Metrix said that the holiday season was marked by the continued dominance of Amazon.com, which was the top retail site for the second year in a row.
Amazon saw its year-over-year holiday season traffic increase by 47.8 percent, with a daily average of 1.58 million users during the period.
Media Metrix's figures dovetail with data released earlier this week by Nielsen//NetRatings, which found that the co-branded site of Amazon and its partner Toysrus.com saw 123 million visitors during the holiday season, more than five times the traffic of its closest competitor.
MyPoints Scores
According to Media Metrix, customer loyalty site MyPoints.com was the second most visited site during the holiday season, averaging 1.39 million unique visitors per day, up from 869,000 in 1999.
Rounding out the top five most-visited e-tailers were AmericanGreetings.com, which had a 149.1 percent increase in traffic from the 1999 holiday season, discount online marketplace Half.com and BizRate.com.
Popular Categories
Book sites made up the top retail category for the 2000 holiday shopping season, with a five-week average of 2.3 million daily unique visitors, displacing the computer category, which was the most popular product group the previous year.
Among the other most visited categories were online malls, consumer electronics, and flowers, gifts and greetings. Unlike 1999, the toy category did not place among the top five retail sectors in 2000.