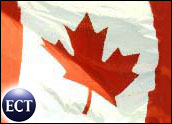 Growth of Canadian at-home traffic to retail Web sites almost leveled off in December, according to a study released Monday by Media Metrix Canada.
Though 6.3 million people, or nearly half of all Canadians online, visited a retail Web site in December, that total represented a 3 percent increase from November, which saw6.1 million visitors, according to the study.
Canadian traffic to retail Web sites increased 9 percent from October to November, Media Metrix said. Overall, traffic has increased 31 percent since July, when 4.8 million Canadians shopped online.
The study also indicated that usage intensity of retail Web sites remained relatively stable in December, as Canadians spent nearly the same amount of time, shopped online for the same number of days and viewed the same number of pages as in November.
Approximately 12.7 million Canadians visited Web sites or used applications such asinstant messaging during December, up 1 percent from November, according to Media Metrix. On an averageDecember day, 5.2 million Canadians went online, spending a total of 9.6 billionminutes surfing the Web.
Top Dogs
The most visited Web sites overall by Canadians were the Internet's usual top dogs, Microsoft, AOL and Yahoo!, Media Metrix said.
Sites affiliated with Microsoft reached 9.72 million users in Canada, or 76.4 percent of the audience. TheAOL network saw 8.3 million visitors, or 65.3 percent of the total Canadian audience,while Yahoo! attracted 7.75 million users in Canada, or 60.9 percent of theaudience.
As in the U.S., Amazon.com was the most visited e-tail site among home users in Canada, taking in 1.27 million unique visitors, or 10 percent of the total Canadianonline population, Media Metrix said. Sears.ca, Futureshop.ca and Chapters.ca were the nextmost popular shopping sites.
Among French-speaking Canadians, 45 percent said they had visited retailWeb sites from home in December. Sears.ca was the No. 1 site among Frenchspeakers, followed by Amazon.ca and Futureshop.ca.
Catching Up
While e-commerce is accelerating in Canada, other reports have suggested that the country hasa long way to go before it catches up with the U.S.
The Canadian e-Business Opportunities Roundtable has projected that online business inthe country will grow at an annual rate of 75.5 percent, reaching US$100 billion by 2004.In the U.S., by contrast, the e-business sector is growing at a 67.9 percentrate and is on track to reach $1 trillion by 2004, the group said in arecent report.
A survey released in October by American Express found that Canadians, whilecoming to the Web in growing numbers, remain reluctant to make purchases over the Internet.
Privacy, security and uncertainty about returns were thetop concerns cited by those who were holding back, the American Express study found.