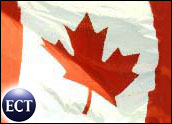 By 2005, 18 percent of all business-to-business (B2B) trade in Canada will be done online, according to a report released Wednesday by Forrester Research.
The report, "Canada's B2B Future," found that online B2B transactions will account for US$182 billion of Canada's $1.03 trillion B2B market in 2005.
"By 2005, transacting business online will feel as natural as picking up the phone to call a supplier or hopping into a cab to visit a customer," said Forrester vice president Stuart D. Woodring.
Woodring added: "Astute Canadian executives will recognize the need for a scalable, nonstop e-business infrastructure, as well as the need to react to the unrelenting change pervasive in today's dynamic Internet economy."
Select Provinces
Leading the charge to trade online will be Ontario and Quebec, which will account for 71 percent, or $129 billion, of Canada's B2B e-commerce by 2005.
British Columbia and Alberta will account for an additional 21 percentof the total, leaving just eight percent generated by Canada's remainingsix provinces and three territories.
B2B Auto Traders
Ontario's B2B e-trade will be generated primarily by the automotive industry, according to the study.
Ontario, which is second only to the U.S. state of Michigan in North American automotive manufacturing, will account for $46 billion of the $60 billion that the Canadian automotive supply chain is expected to sell online in 2005.
At least a portion of Canada's online automotive trade will flow through Covisint, the online B2B marketplace opened by Ford, General Motors, DaimlerChrysler, Renault and Nissan last year.
Top Sectors
Among other industries expected to have strong e-commerce showings in Canada is the petrochemical industry, which is set to generate $31 billion, $15 billion of which will generated in Alberta.
In addition, the computing and electronics industry is expected to do 40 percent of its business online by 2005.
Forrester also pointed to the maintenance, repair, and operations (MRO) supply chains as a growth sector. The firm said MROs will move 24 percent of trade in paper and office products online by 2005.
Forrester is anticipating that shipping and warehousing firms will drive $8.7 billion in trade by 2005. The food and agriculture industry, which Forrester said is adapting slowly to e-commerce, will account for $8 billion of the total.
"Although only 16 percent of Canadian companies have a clear B2B strategy, they will increasingly recognize the benefits of the Net and come to depend on it to plan, source, distribute, and sell product over the next five years," said James Sharp, a Toronto-based analyst for Forrester.
For the report, Forrester interviewed 50 Canadian executives about B2B e-commerce and analyzed the 13 industrial supply chains that make up the overall Canadian B2B market. Factors considered include industry revenue data for the years 1994 to 1999 and industry-specific factors such as fragmentation, distribution intensity, and perishability.
In the Black
The good news at a time when dot-com failure stories are coming at a fast and furious pace is that 32 percent of B2B sites are currently profitable and that another 18 percent anticipate profitability within the next 12 months.
A report released in December by Arthur Andersen found that one-third of company executives see B2B marketplaces as crucial to an overall business strategy, and that the role of online exchanges will "dramatically increase" over the next year.
The Andersen survey also found that half of the executives surveyed see digital marketplaces as a "critical means of competitive positioning" in the next 12 months. Additionally, two-thirds of those surveyed have or plan to have an e-procurement system in place.