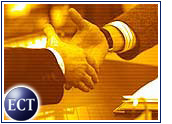 IBM (NYSE: IBM) announced late Thursday that it is acquiring Internet business consulting firm Mainspring (Nasdaq: MSPR) for approximately US$83 million in cash.
"This acquisition will expand our business strategy capabilities so we can address increasing market demands for integrated business consulting and IT implementation services," said Tom Hawk, IBM's general manager for business innovation services.
"Mainspring is truly differentiated in the digital strategy sector, and the company has a unique approach that fuses business strategy, technology architecture and a deep understanding of how customers interact with online and offline businesses," Hawk added.
Inside the Deal
Under the terms of the agreement, IBM will pay $4 a share in cash for all of Cambridge, Massachusetts-based Mainspring's outstanding common stock. Mainspring's stock closed Thursday at $3.20 a share, then rose 74 cents, to $3.94, in early morning trading Friday.
The companies said that shareholders owning over 50 percent of Mainspring's stock have agreed to vote in favor of the acquisition, which the companies expect to close by June.
"Given the volatility in the equity market and in our sector in particular, we view this as a tremendous value for our shareholders," Mainspring president, chairman and chief executive officer John Connelly said.
Connelly will become the general manager and global head of IBM's e-Business Strategy and Change Practice, reporting directly to Hawk, after the merger is completed.
Consulting Shakeout
IBM's acquisition of Mainspring comes at a time of turmoil in the Internet consulting sector affecting some of the largest firms.
KPMG Consulting said Thursday that it is cutting up to 550 jobs because of a weakened demand for some services. As a result of the layoffs, the company will take a charge of up to $20 million in the current quarter.
Also hit hard by the dot-com downturn is PricewaterhouseCoopers, which said last week it is cutting 750 to 1,000 jobs, or 6 to 8 percent of its U.S. consulting unit. The cuts were blamed on a slowdown in technology spending by U.S. firms.
Last week, Chicago-based Internet consulting firm MarchFirst filed for bankruptcy protection after laying off 1,700 workers and selling a slew of assets to rival Divine and other companies.
Accenture's IPO
One bright spot on the Internet consulting front is the news that Accenture plans to have an initial public offering (IPO). The company, which was formerly known as Andersen Consulting, announced Thursday that its partners had voted "overwhelmingly" to proceed with the IPO.
New York City-based Accenture has already filed a registration statement with the U.S.Securities and Exchange Commission for a proposed offering of Class A common shares. Accenture said that the stock would be offered by an underwriting syndicate led by joint book-running managers Goldman, Sachs & Co. and Morgan Stanley.