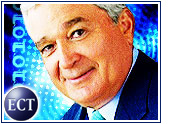 IBM (NYSE: IBM) rose US$6.85 to $113.35 in morning trading Thursday after the computer giant posted an 18 percentincrease in first-quarter earnings.
Analysts at Goldman Sachs reportedly upgraded IBM shares to the firm'srecommended list from outperform after the report.
Net income for the quarter ended March 31st rose to $1.75 billion, or 98cents per share, from $1.52 billion, or 83 cents, in the same period lastyear. Revenue rose 9 percent to $21 billion.
Company officials reportedly told investors on a conference call that theyexpect to meet previous targets for full-year results.
"The momentum we saw building in the latter part of 2000 continued in thefirst quarter of 2001," said chairman and chief executive officer Louis V.Gerstner, Jr. in announcing the results.
"Times like these play to our strengths as a diversified, services-ledcompany," said Gerstner. While many computer companies "have gotten a bitcarried away over the last few years by the exaggerated expectations for theInternet world," he said, IBM has "remained totally focused" on services andtechnological advancements.
Gerstner acknowledged that "not all the news was good" during the quarter.
"The desktop segment is hurting," he said, "and it is not just a cyclicalissue. This is a mature business, and it no longer drives the economics ofthe IT industry."
The company's hard disk drive and display businesses "werealso weak," Gerstner said.
Revenue from the Americas rose 6 percent, sales from Europe, theMideast and Africa advanced 3 percent, and Asia-Pacific revenue grew 8percent, IBM said.