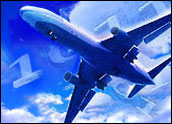 Priceline.com (Nasdaq: PCLN) rose 25 U.S. cents to $2.94 in morning trading Thursday after Delta Air Lines Inc. agreed to restructure its investment with the troubled e-tailer, reducing Priceline's expenses.
"Delta Air Lines has made a major commitment to the future of Priceline.comby restructuring its equity," Priceline chief financial officer RobertMylod said.
Under the agreement, Delta will exchange its 6 million Priceline convertible preferred shares for new preferred stock and warrants, giving the airline a chance to increaseits Priceline stake.
The deal reduces Priceline's outstanding preferredstock by $280 million and will "significantly reduce" the company's dividendexpense, the companies said.
The shares being exchanged by Delta were convertible into 6 millionPriceline shares, and had a liquidation preference — or value remaining inthe event the company were to liquidate — of $359.6 million. Delta willexchange those shares for 80,000 new preferred shares with a totalliquidation preference of $80 million, and will also receive warrants topurchase about 27 million Priceline shares at $2.97 each.
"Priceline.com is a valuable distribution partner to us," said Delta chieffinancial officer M. Michele Burns. "We are very supportive of theirbusiness model, and believe this transaction is in the best interest of bothDelta and Priceline.com."
Delta's new preferred stock will pay dividends of 2.8 million Pricelineshares per year, and is mandatorily redeemable on February 6, 2007. Thestock can be redeemed at either company's option in the event of a change incontrol of Priceline.