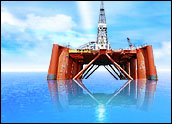 Investor worry that the oil supply to the United States could be disrupted heading into the long holiday weekend reverberated on Wall Street Thursday, when stocks went sharply lower.
Oil prices were up more than 3 percent Thursday after gaining 4 percent on Wednesday when the U.S. announced a surprising drop in stockpiles.
The gains were attributed to fears of terrorist attacks heading into the July 4th holiday.
Oil price fears combined with warnings from the technology sector, blue chip General Motors and the release of June employment data on Friday morning to make the day a train wreck on Wall Street.
Market Numbers
The Dow plunged 101.32, or just under 1 percent, closing at 10,334.16.
The Nasdaq posted an even bigger proportional loss, shedding 32.24, or 1.5 percent, to close at 2,015.55.
The S&P was lower by 1 percent, ending the day down 11.86 points to 1,128.98.
Reading Tea Leaves
Stocks, which had seen two days of modest gains leading up to the Fed's interest rate decision on Wednesday, were pushed lower by earnings warnings.
Computer memory maker Emulex lost 18 percent after it said its current quarter would disappoint because of "tepid" demand.
Yahoo! was off 5 percent after a downgrade from Smith Barney.
GM shares fell almost 3 percent after it said June sales in the U.S. were 15 percent lower than a year ago.
Federal Open Market Committee Meeting
Also fueling the fire were the minutes of the Federal Open Market Committee meeting that resulted in a quarter-point hike in interest rates.
The minutes showed disagreement among committee members about whether to remove language referring to a "measured" approach, leading to speculation that more dramatic rate hikes remain on the table.
That possibility boosted U.S. Treasury bonds, which traded slightly higher Thursday.