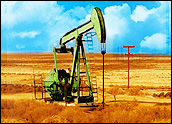 Crude oil futures on the New York Mercantile Exchange (Nymex) in New York were down at the close of the market today from record highs set overnight — but observers expressed doubt that oil prices have peaked.
Light, sweet crude oil futures set for September delivery eased down to $43.95 a barrel on the Nymex.
They had reached a record high of $44.77 overnight.
Yukos Ruling
Oil prices in London also dropped slightly today, down 49 cents to $40.63 a barrel after hitting record highs overnight.
The easing of prices came after a Russian court ruled today that justice ministry bailiffs' actions in seizing shares in Yuganskneftegaz, the main production company of Russian oil giant Yukos, were illegal.
Worries about whether Yukos would be able to continue to pump oil have rocked the oil markets all week.
Tight Global Supply
Yukos has been producing about 1.7 million barrels of oil daily.
Observers also expressed concern that tight global supplies and possible terrorism might push prices higher in the coming weeks.
The oil markets have seen record highs every day for a week.