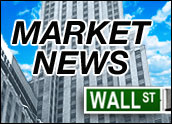 Extreme volatility in the price of oil — which again hit record levels on Thursday — and uncertainty about the July unemployment statistics helped send stocks sharply lower Thursday, with both the Dow and Nasdaq losing more than 1.5 percent.
Oil prices spiked again after Russia officials reversed course and essentially withdrew approval for that country's dominant oil firm, Yukos, to continue to pump oil for export.
Crude futures in New York reached US$44.50 before settling to close at $44.41, up $1.58 from Wednesday's close.
Against that backdrop, stocks were lower all day, plunging sharply in the last hours of trading.
The Dow ended the day down 163.48, or 1.6 percent to 9,963.03. The Nasdaq took a 33.43-point hit, losing 1.8 percent, to finish at 1,821.63, while the S&P was off 17.93, or 1.6 percent, to 1,080.70.
Jobs Data Watch
Adding to investor jitters was the impending release of July's employment figures.
Most economists expect the unemployment rate to remain unchanged at 5.6 percent and expect also that the economy added more than 200,000 jobs.
Anxiety over that report is heightened because the June data fell well short of expectations and raised concerns that the economic recovery had stalled out.
Economists are eager to know if the relatively weak June report was an aberration or the start of a downward trend.
Economy Back on Track?
Several economic reports this week seemed to suggest the economy was somewhat back on track, with factory orders higher, for instance, but others, such as lower consumer spending last month, muddied the picture.
On Thursday, retailers released their sales data for July, with several major chains, including Wal-Mart and Target, posting higher same-store sales.
Others, including Sears, said sales at stores open more than a year fell last month.