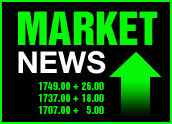 Oil prices spiked and stocks fell early Monday after the U.S. issued its most specific terrorist warning to date, but oil futures soon backed off record highs and stocks finished the day in positive territory.
All eyes were on the two markets after the U.S. Department of Homeland Security warned that financial institutions in New York and Washington, D.C., should be on higher alert against terrorism attacks.
Officials say intelligence suggests terrorists may be plotting to use car bombs or backpack bombs against institutions such as the New York Stock Exchange.
Terror Alert Raised
The government raised the terror alert level for the nation's capital and parts of New Jersey, putting them on the "orange" or "high" alert status that New York City has remained under since 2001.
The news hit the oil market immediately, sending futures to record high levels of nearly $44.
But prices dropped amid new assurances that Russia's Yukos will be able to continue pumping oil unabated despite its financial strife.
Stocks, too, started in the red and then recovered.
The Dow gained 39.45 to close at 10,179.16. The Nasdaq added 4.73 points to finish at 1,892.09, and the S&P 500 climbed 4.90 points to 1,106.62.
Boosting the Dow was earnings news from consumer products maker Procter & Gamble, which exceeded second quarter forecasts.
Data Trickles
Stocks might also have benefited from the monthly Institute for Supply Management report that showed manufacturing activity expanded during July.
The ISM said its factory index climbed to 62.0 in July from 61.1 in June.
A Commerce Department report, meanwhile, said construction spending fell during June by 0.3 percent, marking the first decline after 16 straight months of increases.
Many economists — and the Federal Reserve — have suggested that slower growth in June represented a temporary pause in economic expansion rather than an end to the period of growth.