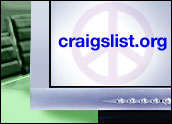 After weeks of striking a conciliatory and cooperative tone, Craigslist is going on the offensive in the controversy over its erotic services section.
Craigslist CEO Jim Buckmaster filed a complaint in a federal court in South Carolina, seeking declaratory relief and a restraining order against the state's attorney general, Henry McMaster, who has threatened to investigate and file criminal charges against Craigslist for its adult services ads.
McMaster has characterized the ads as thinly disguised advertisements for prostitution.
10 Days or Else
Earlier this month, McMaster demanded that Craigslist shut down its erotic services section. He gave the company 10 days to comply, after which he said he would launch an investigation that could result in prosecution.
Craigslist initially complied with McMaster's request by promising to replace its erotic services ad category with a new adult services section that would be screened by Craigslist staff before publication.
Now, though, the company is making a strategic about face — and also, deploying a rarely used, rarely successful legal tactic, said Jim Walden, a former federal prosecutor and cochair of the white collar practice at Gibson, Dunn & Crutcher.
"I assume they are filing an action based on First Amendment," Walden told the E-Commerce Times.
"First Amendment jurisdiction has a notion called 'prior restraint.' It is one of the few areas where someone could potentially put a roadblock in front of a prosecution or investigation," he explained.
However, it is hardly ever used, and whether the tactic will work is far from certain.
"This is a unique situation," noted Walden. "I will say, though, that it didn't have to be this way: When a legitimate business is involved in commerce that involves First Amendment issues and a regulatory body believes more needs to be done to protect the public, it is always better to use carrots than sticks."
In other words, the public would be better served if the company could be constructively engaged in making the changes without the use of threats, he said.
Now that Craigslist has initiated a lawsuit, McMaster is vulnerable. The court could find that his investigation was intended to punish Craigslist for exercise of its First Amendment rights, Walden said. "That helps no one. It will not protect a single person from potential harm."
Political Points
McMaster has been accused of using Craigslist to further his own political agenda. He apparently was not appeased after Craigslist complied with his initial demand, stating that the changes were not enough and that he had no choice but to move forward with an investigation.
In a blog post, Craigslist explained why it decided to push back: "If you read Mr McMaster's ultimatum carefully, you'll note that the only way to definitively comply with it is to take down the craigslist sites for South Carolina in their entirety. The open architecture of craigslist, quintessential to the value it provides for users, simply does not allow for the absolute prevention of solicitation or pornography, with respect to any of its categories and functions."
The irony of this dustup is that Craigslist has plenty of legal support for its position — in fact, its initial conciliatory response to McMaster came as a surprise.
Craigslist argues in its court filing that McMaster's threats, among other things, violates Craigslist's rights under the federal Communications Decency Act, Raymond Van Dyke, a partner with Merchant & Gould, told the E-Commerce Times.
"The Communications Decency Act provides wide immunity, and the AG would have an uphill battle with criminal charges against Craigslist for user's actions," Van Dyke said.