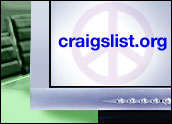 Following the arrest of the accused Boston-area 'Craigslist killer' Philip Markoff, Craigslist has come under fire for its "casual encounters" section on the site, which allegedly contains de facto advertisements for prostitution.
Craigslist, like other Web 2.0 sites, such as social network MySpace — has attracted the attention of authorities in the past. MySpace eventually strengthened its mechanisms for protecting minors from the seedier side of the Web. Craigslist promised last November "to install safeguards to combat unlawful activity and improve public safety" but failed to keep that promise, according to South Carolina AG Henry McMaster.
Now, McMaster is demanding that Craigslist dismantle the objectionable portion of its site. It has 10 days to comply, after which he intends to launch an investigation that could result in prosecution.
No Legal Peg
It's unlikely that McMaster has a legal peg to hang his hat on, however. What is clear is that yet another chapter in e-commerce jurisdictional laws and rights is unfolding. Ever since France protested the sale of Nazi memorabilia on Yahoo more than a decade ago, local authorities have struggled with how their laws should apply in cyberspace. For example, Kentucky recently sought to enforce its state laws with respect to online gambling sites.
For the most part, these are fights that Web site operators wish to avoid. When it isn't supporting e-commerce operators outright, the legal framework tends to be a pleasing shade of gray, leaving plenty of wiggle room. Indeed, Craigslist is taking a conciliatory approach to addressing the current issue — even as it maintains, with ample justification, that it has not broken any laws.
"We look forward to speaking directly with Attorney General McMaster about his concerns, and finding ways to address them without compromising the utility of Craigslist for South Carolinians, or anyone's Constitutional rights," reads a blog post on Craigslist regarding the matter.
"However, we see no legal basis whatsoever for filing a lawsuit against Craigslist or its principals and hope that the Attorney General will realize this upon further reflection," it states.
Carrot vs. Stick
South Carolina's AG might have been better off using a carrot to encourage Craigslist to work with it, as opposed to waving a stick, Jim Walden, a former federal prosecutor and cochair of the white collar practice at Gibson, Dunn & Crutcher, told the E-Commerce Times.
There are a number of legal theories — such as reckless endangerment or consumer fraud statutes — that can be used for prosecution, Walden said, "but they all involve a significant stretch."
The most likely ultimate goal of the attorney general, he posited, is to get companies to the negotiating table to implement reforms.
By going public so early — and so aggressively — he's conceding a lot of negotiating power, Walden said.
"No matter what Internet companies do, bad people are going to misuse Web sites, the way bad people misuse other things," he pointed out. "No one threatens the Postal Service with prosecution when people use the mail for crime, which they do on a daily basis. Unless the attorney general can show the company intentionally disregarded a known risk, threatening criminal prosecution is a hollow approach."
Craigslist is standing on solid legal ground, said Matthew Albaugh, an attorney at Baker & Daniels who specializes in First Amendment and media law litigation.
"It's highly unlikely that Craigslist or any comparable Internet site could be assigned some sort of liability in this instance," he told the E-Commerce Times.
"The Communications Decency Act provides Internet sites like Craiglist with powerful immunities against lawsuits that attempt to treat them as publishers or speakers of any content posted by a third party," Albaugh continued.
The CDA explicitly allows for the enforcement of state laws — thus, presumably triggering state criminal laws — he acknowledged, but the CDA states that no "cause of action may be brought and no liability may be imposed under any state or local law that is inconsistent with" the CDA.
Courts around the country have almost uniformly interpreted the CDA as granting broad immunity to interactive computer services like Craigslist for claims based on content posted by third-party users, concluded Albaugh.