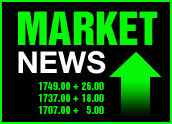 Consumer prices barely grew in August, the latest sign that at least inflation is not a main concern in the U.S. economic picture.
Prices rose just 0.1 percent at the consumer level, the Commerce Department reported Thursday.
That came after a similar increase at the wholesale level was revealed earlier this week.
The lack of inflation could be seen as a negative, because it could indicate less robust growth for the economy as a whole.
Investors chose today to focus on the positive, which includes the likelihood that interest rates will rise slowly.
Stocks traded sharply higher in the morning, but saw a late-day sag after oil prices suddenly made a comeback.
Still, by the closing bell, the Dow was up 13.13 points to 10,244.49, the Nasdaq gained 7.56 to 1,904.08 and the S&P 500 tacked on 3.13 points to finish the session at 1,123.50.
Despite word that many oil facilities in the Gulf of Mexico were preparing to resume normal operations after Hurricane Ivan passed over the area, oil prices gained 42 cents to close at $44 a barrel.
Oil prices have seesawed in recent days, as Ivan's impact and the affect that a pledge by OPEC to boost production by a million barrels a day starting in November were weighed by investors.
Meanwhile, the Labor Department reported Thursday that new claims for unemployment benefits rose last week by 16,000 to 333,000.