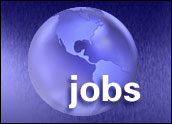 Weaker-than-expected job numbers for July led to a stunning sell-off on Wall Street as all major stock averages sank to their lowest levels of the year.
The Labor Department said 32,000 new jobs were added in July, 90 percent fewer than the forecast of 243,000 jobs. The new figures raised concerns that the poor jobs figures for June might have been more than a blip, as some economists had claimed.
Making matters worse, Labor also revised the jobs figure for May and June, setting them even lower than originally reported.
The jobs report overshadowed oil prices, which again hit a record high on Friday for the sixth consecutive trading session.
Dismal Week
Stocks, which had traded sharply lower Thursday ahead of the number, were trading low throughout the session Friday and ended the day near session lows.
The Dow plunged 147.70 points, or 1.48 percent, to close at 9,815.33. The Nasdaq took an even bigger percentage hit, losing 44.74 points, or 2.46 percent, to close at 1,776.89. The S&P 500 dropped to 1,063.97, a loss of 16.73.
The session brought a dismal week to a close, one that saw the Dow and the S&P shed 3 percent each and the Nasdaq drop 6 percent.
Fed Reaction?
Some economists say high oil prices might have helped slow economic growth, as consumers pared back spending in recent months. The slow job growth also was seen as a possible blow to President Bush's reelection efforts.
The weak economic reports revived debate about predicted interest rate hikes. The Federal Reserve is still widely expected to raise rates a quarter point to 1.5 percent when it meets later in August, but many investors are now betting against another point increase in September.
Uncertainty about the Fed's actions spurred higher demand for bonds. At one point in the day the interest rate on the benchmark 10-year note fell all the way to 4.17 percent.
Employment Sector Stocks Down
Unsurprisingly, Labor's job report struck a blow to employment sector stocks. Labor Ready, which supplies day laborers, saw its stock fall 68 cents to $12.20, while staffing giant Manpower fell to $40.03, off 4.7 percent.
Other decliners included Halliburton, whose stock fell 44 cents on news of an investor lawsuit over accounting fraud.
General Motors announced a recall on all Saturn Vue sport utility vehicles built since 2001, sending its stock down $1.05 to $41.49. The recall follows last week's report by federal regulators that the vehicles sustained suspension damage during rollover tests.
In the continuing scandal over newspaper circulation numbers, stock in publisher Belo fell $1.66 to $21.55 after the company reported that its Dallas Morning News had overstated circulation.
In overseas trading, Britain's FTSE 100 was down 1.7 percent, France's CAC-40 fell 2.6 percent and Germany's DAX was down 2.7 percent. Japan's Nikkei was off 0.8 percent.