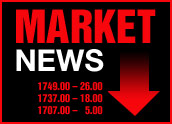 Stocks lost ground today as oil prices surged higher, deflating any optimism resulting from largely upbeat comments made to Congress by Federal Reserve Chairman Alan Greenspan.
A day after falling back before breaking the US$52 per barrel level, oil futures roared higher, finishing up $1.37 to $53.05 per barrel in New York trading, the highest closing price in four months. A report predicting stronger demand worldwide for the rest of 2005 was cited for the spike.
Greenspan Comments
The rise helped drive stocks lower, wiping out early gains that had driven the Dow to levels that it hasn't seen in nearly four years. By the close, the Dow was off 18.03 points, or 0.17 percent, to 10,811.97. The Nasdaq lost 3.75, or 0.18 percent, to close at 2,067.50, and the S&P 500 was lower by 0.33, or 0.03 percent, to 1,210.08.
Largely lost in the shuffle were mainly upbeat comments from Greenspan on the state of the economy. The Fed chief said the economy appeared to be expanding at a "reasonably good pace," though he issued warnings about longer-term impacts of rising budget deficits.
He also urged attention to the Social Security and Medicare problems before they become crises and reiterated his qualified support for President Bush's proposal to create private accounts within Social Security.
Jobs Report
Overseas, the dollar made modest gains as Greenspan's speech boosted expectations for more interest rate hikes but did nothing to settle longer-term concerns about the U.S. budget deficits.
Investors on the currency market are awaiting Friday's job report along with stock investors, believing it might help clarify the direction of both the U.S. economy and interest rates.